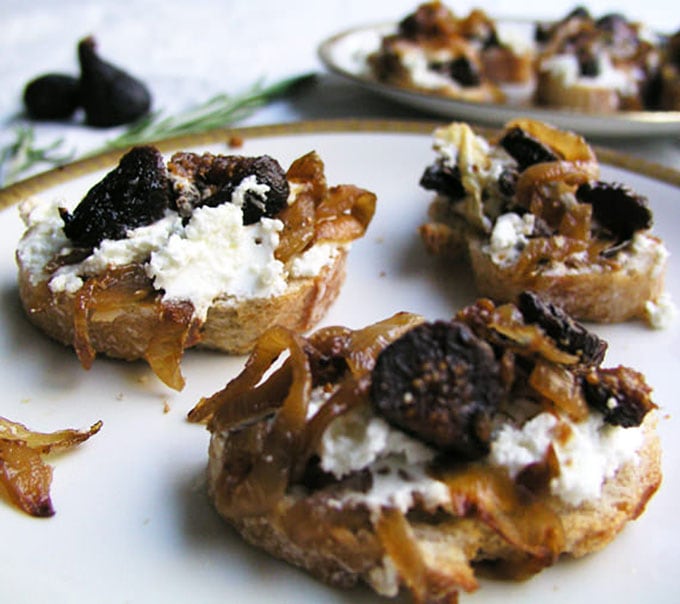 A heap of creamy, salty goat cheese is topped with sweet caramelized onions, garlic and fruity figs, baked and served hot, spread on bread or crackers.  A few days ago, when I was starting to write about this recipe, a friend mentioned on Facebook that this is National Fig Week and I was excited to have a newsworthy peg for sharing one of my favorite party appetizers with you. But as I typed the words,  "this is National Fig Week", I began to wonder how a food holiday gets determined and how official it is.  Is there some sort of bureaucracy you have to endure or papers to file or can anyone call anything National Anything Week?   "Yes" to the last question.  There's no law preventing anyone from naming their own holiday and many of the National food days we read about are basically clever marketing campaigns.
There are some legit special food holidays though, such as National Ice Cream Month – July, and National Ice Cream Day – the third Sunday in July.  These were proclaimed by Ronald Reagan and written into public law on July 2, 1984.  There is one more "official" source for these types of special days and weeks which is called "Chase's Calendar".  It is a McGraw Hill publication that has been listing special events and holidays since 1957.  Even if something starts out as a marketing campaign, getting it listed with Chase's Calendar is almost as good as getting a Presidential proclamation.
I like the food holidays.  It's a fun way to be reminded of what's in season and get inspired to cook something new. Here are some of the upcoming food holidays Chase lists for this month: Today is National Vanilla Cupcake Day, November 14th: National Guacamole Day, November 17th: Home made bread day, November 23: National Sardines day.  The list goes on.
Back to National Fig Week and Goat cheese, caramelized onion and fig bruschetta.  This is my go-to party appetizer because it's quick and easy to prepare, I can make it ahead of time, and it's always a huge hit.  I'm really excited for you to try this for your next party, and I hope you will let me know what you think if you do!
GOAT CHEESE, CARAMELIZED ONION & FIG BRUSCHETTA
Baked creamy goat cheese with sweet caramelized onions and fruity figs atop sliced baguette or crackers make a perfect party appetizer
Serves:
20 as an appetizer
Ingredients
2 11-ounce logs of goat cheese
14 dried mission figs, halved lengthwise, then sliced crosswise
¼ cup dry sherry
¼ cup olive oil
2 large spanish onions, halved and thinly sliced
10 garlic cloves, crushed
3 sprigs of fresh rosemary (3-4 inches long)
2 teaspoons coarse salt
Freshly ground black pepper, to taste
*Baguette, thinly sliced
*Note: for a gluten-free appetizer, serve with gluten-free crackers or sliced pears
Instructions
Preheat oven to 350º F. Crumble the goat logs into a medium-sized oven-safe dish (ideally, something that can go from oven to table) Set aside.
Put sliced figs in a small saucepan. Add sherry and a little water to cover. Bring to a boil and remove from heat. Set aside. Dried figs will plump and absorb the flavor of the sherry.
Meanwhile, heat olive oil in a large skillet over medium heat. Add onions, garlic, rosemary sprigs, salt and pepper. Sauté, stirring often, for 10-12 minutes, until onions are lightly browned. Remove plumped figs from pot using a slotted spoon and add them to the onion mixture. Stir to combine. Discard thick woody rosemary stems from mixture, and heap the caramelized onions and fig mixture on top of the goat cheese. MAKE-AHEAD NOTE: At this point you can cover and refrigerate the dish for a day or two. When you are ready to serve it, let it sit at room temp for ½ hour before continuing.
Juste before serving, bake in the preheated oven for 20 minutes, until cheese is hot and starting to bubble at the edges. Serve hot, surrounded by baguette slices or crackers. Enjoy!