Rosolje is a popular Estonian party food - a delicious beet and potato salad, explosively crimson in color. It's a perfect side dish for your next party, picnic or barbecue.
Hot pink potato salad on your party buffet table will not escape anyone's notice. Rosolje is the name for this popular Estonian beetroot and potato salad. Bite-sized cubes of beets and potatoes, finely chopped onions and pickles, are tossed with a creamy, zesty, mustardy dressing. There's lots to love about this fun fuchsia salad and also about its country of origin.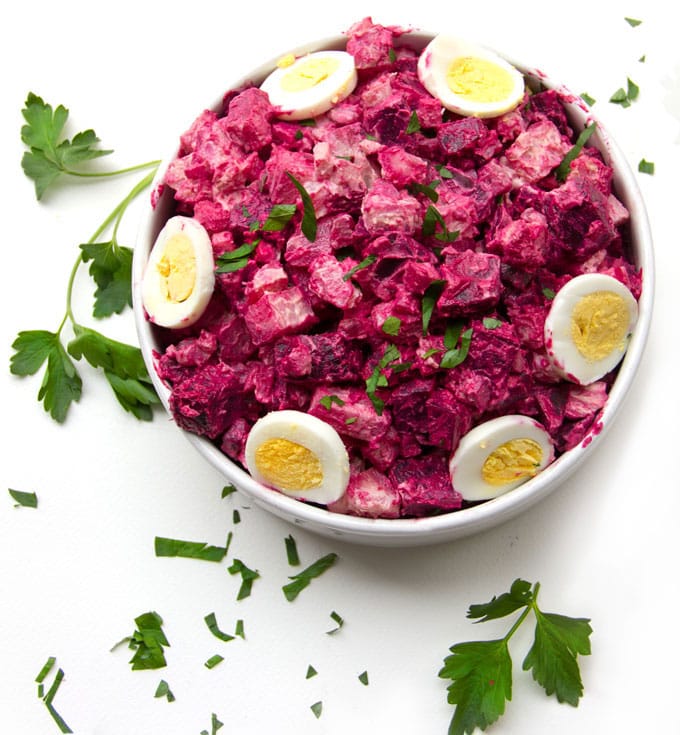 Estonia's Authentic Beet and Potato Salad
If you're from Estonia, you might be wondering "where's the herring?" Some Estonian people say "if it doesn't have herring, it's not rosolje." Others are more open-minded. I've seen similar debates over anchovies in Caesar salad. Every cook has his or her own personal tastes. I strive to honor time-held traditions by at least acknowledging them, but it's not always my goal to replicate them. My recipes are my personal take, my favorite rendition of globally-inspired dishes.
I omitted herring and opted for vegetarian rosolje. I also lightened up the traditional dressing by using a lot less mayonnaise than the norm, and by replacing sour cream with yogurt. The salad contains finely chopped pickles, onions and tart apples. The dressing is punctuated by horseradish and hot English mustard. All of these bold zesty flavors are a delicious counterpart to the sweet beets and mellow potatoes. It's a wacky sounding conglomeration of ingredients, but it works. There are surprises and delights in every bite!
If you want to try a more authentic version, that can be easily achieved by adding 1 cup of chopped pickled herring to the mix.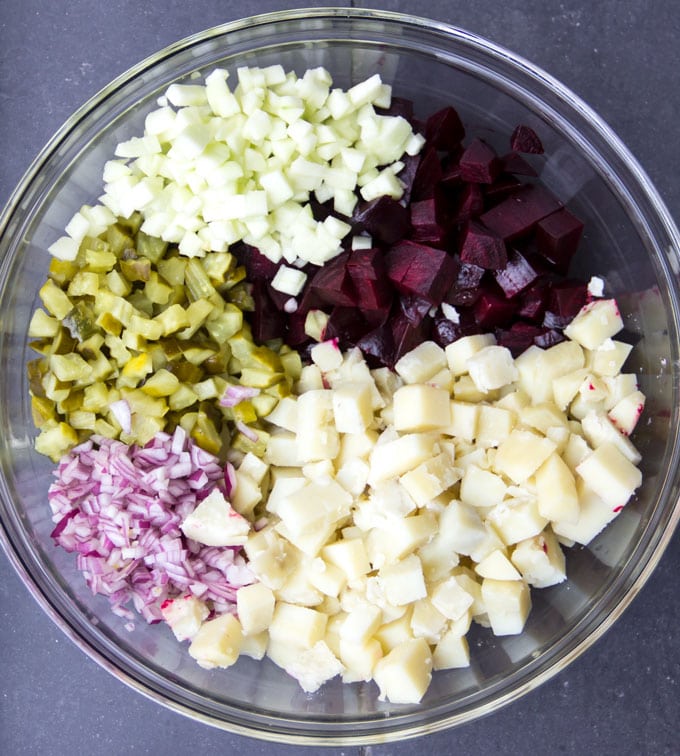 I knew little about Estonia before Hippocrene Books sent me this cookbook to review: Estonian Tastes and Traditions. My copy of that book is now exploding with sticky notes, marking all the recipes I'm excited to try: cheese danish, braised pork chops with apricots and prunes, chicken Kiev, sour kraut soup, meatball soup, sweet and sour cabbage, and black bread (to name a few). Maybe it's the Russian blood in me that makes me so attracted to these rich comforting East European dishes.
Estonia is a small coastal country in northeastern Europe, with only 1,300,000 inhabitants. It's remarkable for being simultaneously one of the least densely populated countries in Europe and one of the most technologically advanced countries in the world. Skype was invented there! Estonia has extensive nature preserves, 5 national parks, untouched beaches. You can get wifi reception at all of them.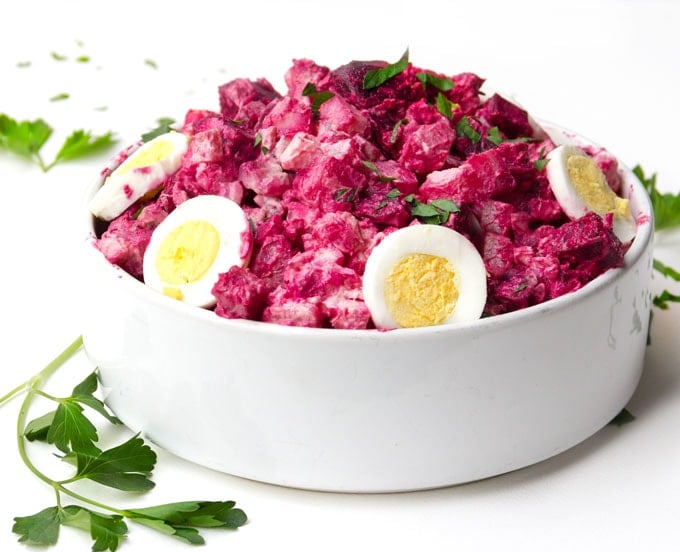 MORE DELICIOUS POTATO RECIPES FROM AROUND THE WORLD:
Here's the recipe for Rosolje: Estonian Potato and Beet Salad. If you make it, I hope you'll come back and leave a comment to let me know what you think.
I originally developed this recipe for the Idaho Potato Commission. For more great potato recipes visit the the official site of the Idaho® Potato
Print
Rosolje: Estonian Beet and Potato Salad
---
Author:

Lisa Goldfinger

Total Time:

1 hour, 30 minutes

Yield:

10

-

1

2

1

x

Diet:

Vegetarian
Description
Exciting hot pink potato salad made with a combo of potatoes, roasted beets and a tangy yogurt-mustard dressing.
---
2

pounds

Idaho® russet potatoes of similar size, peeled (4 medium)

1 ¾

pounds

red beets of similar size, scrubbed (4 medium)

1 ½

cups

of ¼-inch-diced dill pickles or bread and butter pickles

1

granny smith apple, peeled, cored, and finely chopped

½

cup

finely minced red onion

½

cup

mayonnaise

½

cup

whole milk Greek yogurt

1 tablespoon

hot English mustard

1 tablespoon

prepared horseradish

2 teaspoons

salt, divided

½ teaspoon

freshly ground black pepper

3

large eggs, hard-boiled, peeled and sliced, optional garnish

2 tablespoons

chopped parsley leaves, optional garnish
---
Instructions
Preheat oven to 400ºF. Scrub beets and wrap them in foil. Set them on a roasting pan and bake them for 1 hour. When cool enough to handle, (15 min or so) rub off the skins using a paper towel, or use a vegetable peeler. Cut them into ½-inch dice.
While beets are baking put potatoes in a large pot and cover with cold water by a few inches. Add a teaspoon of salt. Bring to a boil over high heat. Lower to a gentle simmer. Simmer for 20 minutes and check for doneness. Potatoes are done when tender all the way through. Test with a fork or skewer. Drain and cool. Cut into ½-inch dice.
In a small bowl combine the dressing ingredients: mayonnaise, yogurt, mustard, horseradish, 1 teaspoon of salt, and pepper.
In a large bowl toss all the chopped ingredients with the dressing. Chill for at least an hour.
Garnish with sliced eggs and parsley, if you like.
Note: This is a great dish to make ahead. It will taste even better when the flavors have time to meld, and it can be kept in the fridge, covered, for up to 3 days. Garnish just before serving.
Prep Time:

30 minutes

Cook Time:

1 hour

Category:

Side Dish

Method:

boil and roast

Cuisine:

Estonian
Keywords: beet and potato salad