Roasted vegetables from the spice islands: I came up with this recipe when I was researching Tanzanian food for an earlier post. For the better part of a week I was immersed in reading about East African history, culture and cuisine – poring over recipes and cooking up different dishes every day. This one, inspired by The Spice Islands of Zanzibar, is so good it has to be shared.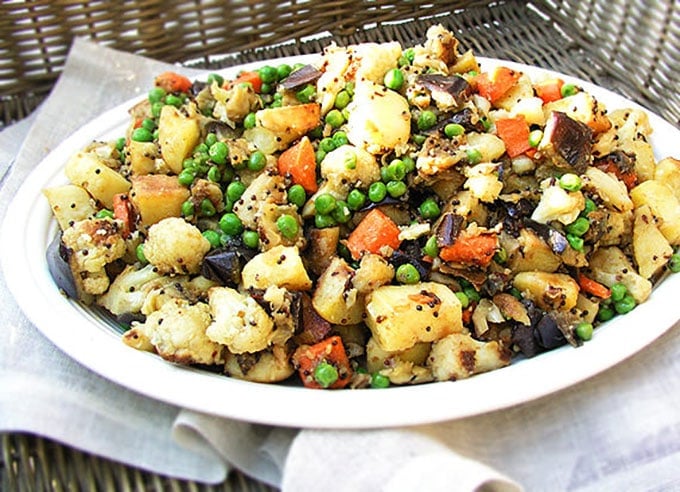 Zanzabar is an archipelago in the Indian Ocean just off the coast of mainland Tanzania, often referred to as The Spice Islands because of the high quality spices grown there. Swahili is the principal language of Zanzabar. You may know the Swahili phrase 'Hakuna matata!' 'No problem!'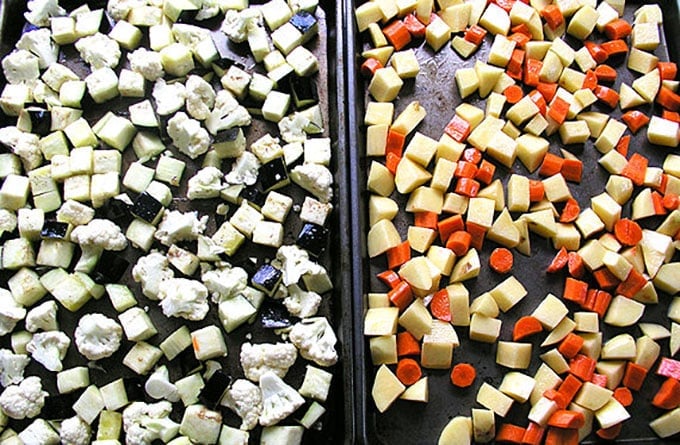 Africa has more countries that any other continent – 54 of them!  When I launched "Panning The Globe" with a mission to find incredibly delicious recipes from every single country in the world, I wondered if Africa would pose a particularly difficult challenge. Would the ingredients be hard to find? Would the dishes all be too similar?  I've only hit three of the fifty four African countries, but so far I've been very happy with the results.
In case you're wondering if it is easy to find the great recipes from far away places, the answer is "sometimes". It hasn't been smooth sailing the whole way through. In fact my very first attempt at cooking something exotic for the blog was an intriguing African dish called Doro Wot. It's an Ethiopian chicken stew made with a complex spice blend called Berbere and it has whole hard boiled eggs floating in it. It's supposed to be eaten with a special flat bread called injera made with flour that is comprised of the ground up seeds from a "teff" plant.  With the help of my husband (he's the bread baker in the family) we attempted to make injera to accompany the Doro Wot. Let's just say that we will have to revisit that whole project.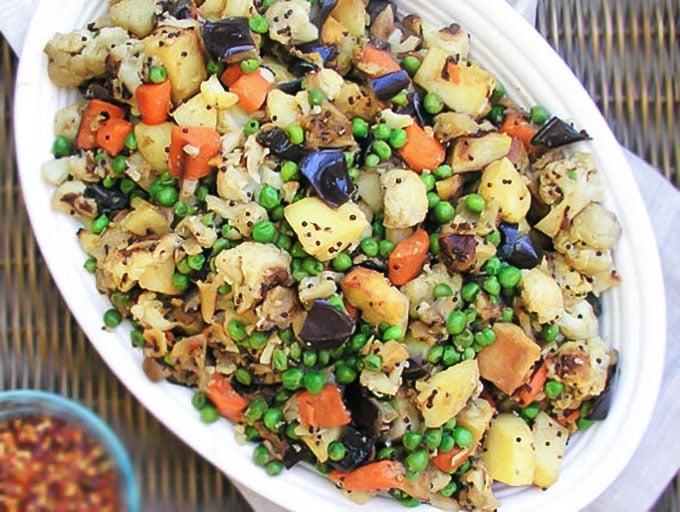 Roasted Vegetables from The Spice Islands is essentially a recipe for traditional roasted vegetables with a combination of exotic spices that provide an added burst of flavor. Use the vegetables I suggest or an equal amount of your favorite vegetables. I hope you enjoy this beautiful, bountiful, delicious side dish!
Here's the recipe for Roasted Vegetables from the Spice Islands. If you try this recipe I hope you'll come back to leave a rating and comment and let me know what you think!
Print
Roasted Vegetables from The Spice Islands
Roasted vegetables get a delicious flavor boost with wonderful East African spices. This is an exceptional side dish.
Author: Panning The Globe
Prep Time:

30 mins

Cook Time:

40 mins

Total Time:

1 hour 10 mins

Yield:

6

-

8

1

x
Category:

Vegetarian Side Dish

Cuisine:

Zanzabar
Scale
Ingredients
VEGETABLES
*1 medium eggplant with skin, cubed (3/4 inch cubes) *Note: cut up eggplant first so you can salt it and let it sweat while you cut up the other vegetables. See instructions below.

2 tablespoon

s salt (for sweating the eggplant)

5

Yukon gold potatoes, peeled and cubed (1-inch cubes)

4

carrots, peeled and sliced in half lengthwise, then crosswise into

1

-inch pieces

1

small head cauliflower separated into florets.

6 tablespoon

s olive oil (to toss with vegetables)

2 teaspoon

s salt (for roasting the vegetables)

2 cup

s frozen peas, defrosted
SPICES

3 tablespoon

s olive oil (for sautéing the spices)

2 teaspoon

s mustard seeds (black or yellow)

2 teaspoon

s crushed red pepper flakes

1 1/2 teaspoon

s ground fenugreek

1 teaspoon

s ground cumin

1/2 cup

water

1 teaspoon

sugar

2 teaspoon

s salt
Instructions
Preheat oven to 400ºF
*Lay eggplant cubes in a single layer on paper towels. Sprinkle and toss with two tablespoons of salt and let them sweat for 15 minutes or so, while you prepare the rest of the vegetables.
In a large bowl toss cubed potatoes and cut up carrots with 3 tablespoons olive oil and 1 teaspoon of salt, and lay them out on a baking tray in a single layer. Put eggplant cubes in a colander and rinse off all the salt. Pat dry. Put them in the large bowl with the cauliflower. Add 3 tablespoons olive oil and 1 teaspoon of salt. Toss well and spread eggplant and cauliflower onto a sheet pan in a single layer. Roast vegetables in top and bottom shelves of preheated oven for 25-35 minutes. (potatoes should be cooked through and lightly browned) After 15 minutes flip veggies with a spatula and switch the position of the trays in the oven to insure even browning. Remove trays from the oven and set aside.
In a large pot or dutch oven heat 3 tablespoons olive oil over medium heat. Add mustard seeds and cook, stirring until you hear the seeds start to pop. Add the red pepper flakes, fenugreek, and cumin, and cook, stirring, for 30 seconds. Toss in all of the roasted vegetables, the peas, 1/2 cup of water, the sugar and the salt. Cook, tossing everything gently to combine and heat, for 2 -3 minutes. Lower heat to medium low, cover and cook for 5 minutes, stirring once or twice. Remove from heat. Serve and enjoy!