Formaggio Kitchen's award-winning charcutière taught me how to make gourmet PÂTÈ GRAND-MÈRE at home. It's fun to do and very rewarding to make such a delicacy in one's own kitchen. Here's the recipe and step by step instructions.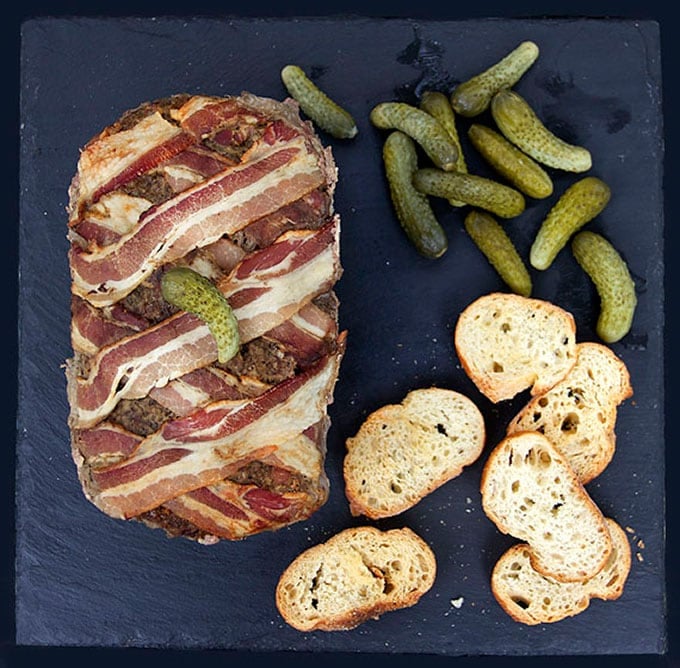 This is my first foray into making pâté. I've always thought of pâté as an elaborate French delicacy, beyond the scope of the home chef.  On my recent visit to Formaggio Kitchen I was treated to a sample of their house-made pâtés. The flavors and textures were so unbelievably rich and complex. I started thinking (hoping!) that I might possibly be able to meet the chef and get a recipe. My wish came true!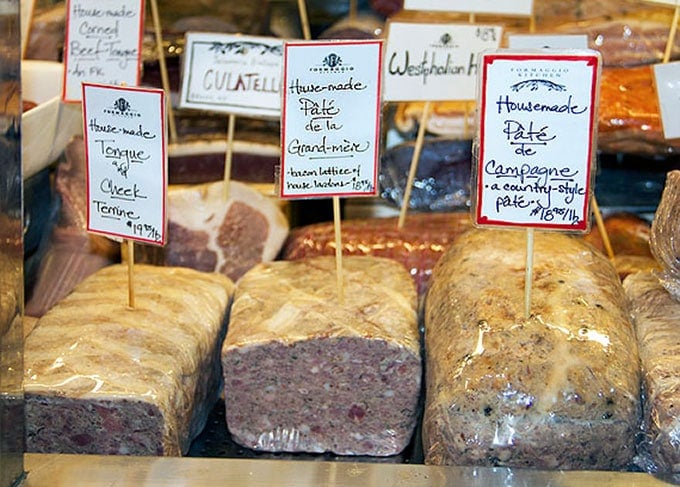 Julie Biggs is the charcutière at Formaggio.  Her work involves everything from sourcing the meats to breaking down whole pigs and rabbits to developing award-winning recipes for charcuterie.  I was very excited when Julie assured me that her Pâté recipes can be adapted for the home kitchen. She picked one of her favorites – pâté grand-mère – to share with me and my blog followers.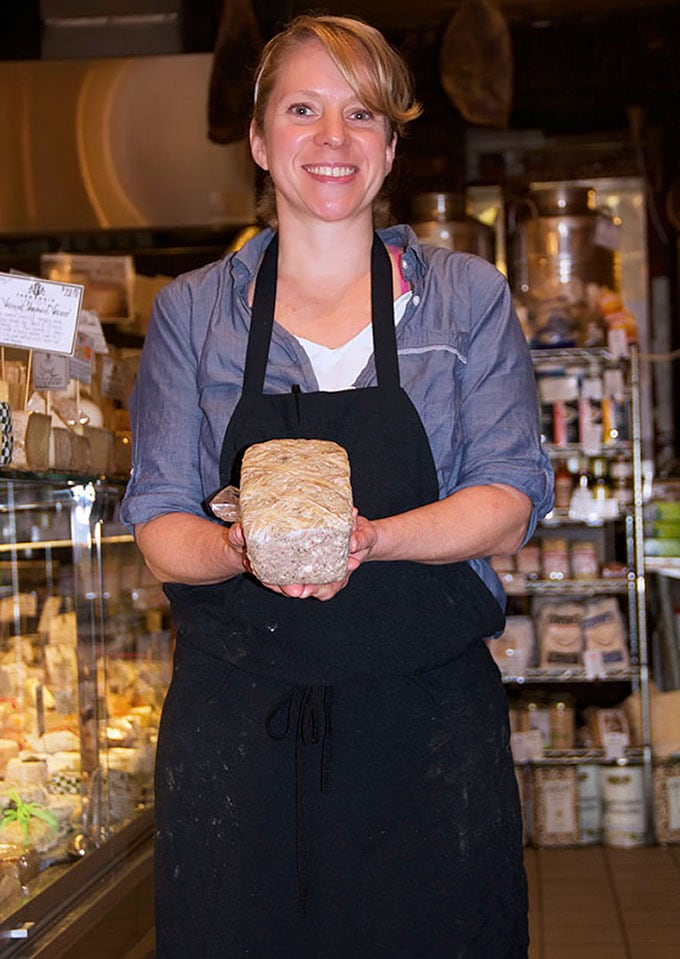 Julie explained pâté to me in simple terms: "Every pâté recipe has three components: meat, a liver binder, and a defining garnish….The liver binder is the flavoring component of the pâté….each pâté binder is a little different, and the ingredients in each vary to enhance the type of meat in the pâté. The flavor components vary but all of the binders contain garlic, shallots, local eggs, cream, fresh herbs, our signature pâté spice blend, pork, chicken, or rabbit livers and some form of alcohol. The binder flavors the pâté but also provides the richness and density that are its defining qualities."
While I was in Formaggio's kitchen, learning how to make Pâté Grand-mère, many other pâtés were popping in and out of ovens, filling the air with unbelievably amazing aromas.  The pâté pictured below, cooling in its water bath, is a finalist in the 2015 Good Food Awards. It's Julie's Tongue and Cheek Terrine – made from beef and pork cheeks and corned beef tongue.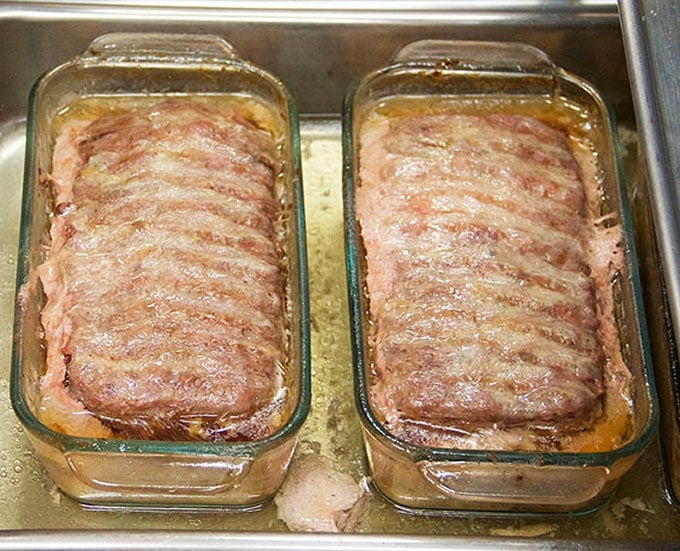 Julie's recipe for pâté grand-mère is easy to follow and, once we got all of the ground meats in house and got the spices measured out, the rest was a breeze! My friend Donna came over and helped me.  Neither of us had ever made anything quite like it before and we were intrigued!
It came out looking beautiful and tasting delectable!  We were a little concerned at one point, because it took quite a bit longer than an hour and 15 minutes for our Pâté to come to the correct temperature.  But Julie emphasized to me that you should focus on the final temperatures and not on the length of cooking time, as that will vary depending on the type and size of terrine you're using.
One thing that's very distinct and special about pâté grand-mère is the fun garnishes – the cubes of crisp sautéed bacon mixed in with the ground meats, creating a very exciting texture, and that alluring bacon lattice that's draped over the top!
I look forward to serving this at one of my winter gatherings.  I'll set it out with good bread, cornichons, and spicy mustard!
Wishing you a continued wonderful holiday season filled with special treats like pâté grand-mère!
Print
PÂTÈ GRAND-MÈRE
Elegant and delicious pâté!
Author: Panning The Globe
Prep Time:

30 mins

Cook Time:

1 hour 30 mins

Total Time:

2 hours

Yield:

10

-

15

1

x
Category:

Appetizer

Cuisine:

French
Scale
Ingredients
Equipment
A glass terrine or loaf pan, 1 1/2 Quart or approx. 5″ x 9 x 3″
Cooking spray
Foil for

ten

ting the Pâté
Meat thermometer
Meats:

2

pounds ground pork butt*

1/2

pound ground pork fatback

1/8

pound pancetta, ground or finely chopped

1 tablespoon

s plus 1 teaspoon kosher salt
Binder:

½ cup

pork or chicken livers, cleaned and diced

2

medium shallots, peeled and quartered

2

medium cloves garlic, halved

1 tablespoon

roughly chopped Italian flat leaf parsley

2 teaspoon

s fresh thyme thyme leaves

2 teaspoon

s ground black pepper

2 teaspoon

s pâté spice blend – you can find this at some specialty stores or make your own – see below.

1 teaspoon

quatre épices – you can find this at some specialty stores or make your own – see below.

1/4 cup

brandy

1/4 cup

dry white wine (Vermouth is a good choice)

1 tablespoon

sherry

1 tablespoon

s tawny port

1

large egg

1/2 cup

light cream
Garnish:

¼

pound slab bacon, diced into

1/2

inch cubes and sautéed for lardons

8

thin strips of bacon for wrapping the top of the pâté
*Note: If you prefer to grind your own meats, cube them, spread them out on a sheet pan, sprinkle them with salt, and freeze until hard but not completely frozen. Then grind.
Pâté spice blend

1/2 teaspoon

dried thyme

1/2 teaspoon

sweet paprika

1/4 teaspoon

ground cardamom

1/4 teaspoon

ground cloves

1/4 teaspoon

ground allspice
Quatre Epice Spice Blend

1 1/2 teaspoon

s white pepper

1/2 teaspoon

ground nutmeg

1/2 teaspoon

ground ginger

1/8 teaspoon

ground clove
Instructions
Preheat oven to 325ºF. In a small skillet, sauté diced bacon until just crisp, then drain and cool.
Make Binder: In a blender, combine garlic, shallot, herbs, spices and alcohol. Pulse until roughly chopped. Add liver, eggs and cream. Blend well to emulsify. Mixture should be smooth. Set aside.
Mix Meats In a large bowl mix pork butt, pork fatback, pancetta, and salt until well-combined (using your hands works well) Add binder to meat mixture and combine well, scraping down bottom and sides of bowl. Add lardons (bacon) and mix just until evenly incorporated.
Spray a glass terrine with cooking spray and pack pâté mix into the terrine, pressing down with a rubber spatula as you go to eliminate any air bubbles. Top each terrine with finishing garnish of bacon strips. Trim bacon and tuck any loose ends into the sides. Spray a piece of tin foil with cooking spray and cover the pâté (sprayed side on the inside). Make sure foil is tented and does not touch the top of the pâté.
Bake at 325°F in water bath that comes roughly half-way up the glass terrine. Bake until internal temperature reads 135°F, approximately* 1 hour and fifteen minutes. Remove foil and continue to bake until internal temperature reaches 155°F, approximately* 15 more minutes. Remove from the oven and let cool in water bath, basting occasionally with the water from the water bath, until room temp. Then refrigerate overnight. Pop out and clean off any extra fat before serving.
*Please note that baking times will vary depending on the shape of your glass container and on fluctuations in oven temperature. The key thing is to hit the specified temperatures indicated.
If you'd like to sample some of Julie's charcuterie, stop in and visit Formaggio Kitchen in Cambridge or Boston.  You can also order the Charcuterie Sampler online.