Here are some tips on how to make the ultimate cheese platter that looks beautiful and has a great balance of flavors and textures.
Do you agree that cheese is one of the world's most irresistible foods? Just the sight of a soft brie or camembert, melting out of its rind, inspires passion!  For entertaining, a fabulous cheese platter is one of the easiest, most exquisite things you can serve – so many exotic flavors, textures and aromas on one plate – something to please every palate.
So how do you choose the cheeses for your platter?  If you're like me, you've been overwhelmed by a case filled with a sea of cheeses.  I always enjoy reading the charming little blurbs about the farms or the animals that the cheeses came from – but I still don't know which ones to buy.  Year after year I end up with many of the same familiar cheeses – like Robiola and La Tur.  They are always great, but I've missed out on trying what's new or fresh or super exciting or perfectly ripe! This year I asked my favorite cheese experts at Formaggio Kitchen in Cambridge for some help putting together my ultimate cheese platter. Then I took the cheeses they recommended and enlisted the help of two creative foodie friends for styling advice.  I'll show you what they came up with to inspire you to take your cheese platter to a new level of excitement!
Those of you who live in the Boston area might be familiar with Formaggio Kitchen.  The store is a foodie's paradise – with over 300 artisanal cheeses in their cases and lining the wall, gourmet coffee, imported specialty foods, home baked breads and desserts, award-winning house made charcuterie, fine wines, and organic produce!
They have a shop on Huron Avenue in Cambridge, another in Boston's South End and one in NYC.
And down underground, in the basement of their Cambridge store, is their cheese cave. It's designed to have the perfect damp, musty, and chilly climate for aging young wheels of cheese and maintaining moisture in older ones.
After my tour of the cave and a few tastes of cheese and deliciously rich, freshly made rabbit pate, these seven cheeses were recommended to me for making "the ultimate cheese platter." The selection included a full range of flavors and textures: soft, hard, mild, pungent, cow, goat, young, and aged.  If you go  out and buy these same cheeses, I know you'll be extremely happy. But there are hundreds of other great cheeses out there, too.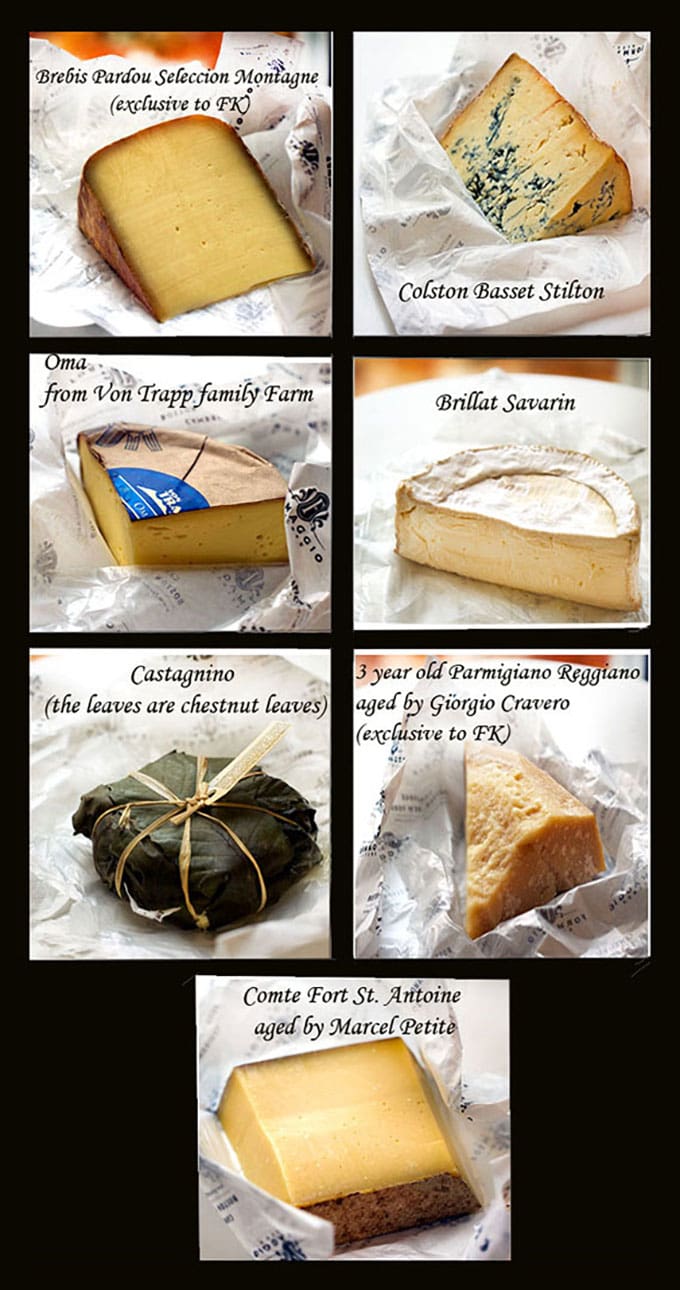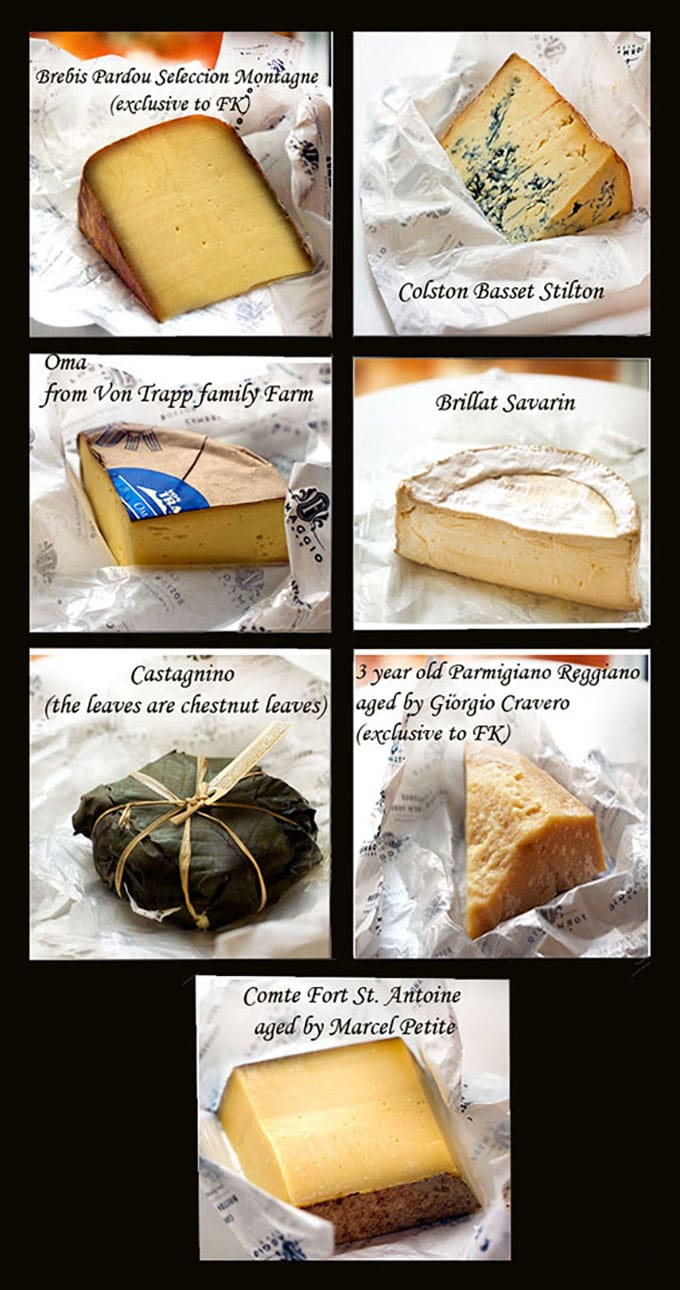 Here's some more guidance from Formaggio for how to think about your cheese plate:
 • • •
"Go with what you like! If you don't like tangy goat's milk cheeses or spicy blue cheeses, don't worry – you can still put together a remarkable cheese plate without these styles of cheese. In Europe, the cheese course is traditionally served after the entrée and before dessert, but we encourage you to eat cheese whenever you want: before dinner, after dinner or even as your main course! If you want to eat the rind, go ahead – if not, don't. Rinds can bring subtle flavors and textures to the cheese, which might add or detract from the flavor and texture of the interior (known as the paste) of the cheese."
"Choose quality over quantity. Your palate has a better chance of keeping up with your appetite if you have a smaller selection rather than a larger selection. We recommend constructing a cheese plate of at least three and no more than six cheeses."
"Know your audience. We carry cheeses to suit many palates and when building a cheese plate, we suggest that you consider what your guests might appreciate. If it is an adventurous crowd, pick cheeses with more pungency and flavor and perhaps some cheeses that you've never heard of. If your crowd is more conventional, choose familiar styles such as Brie, Cheddar, or Gouda, and throw in one more obscure cheese that push your audience's boundaries a bit."
Once you select the cheeses you want, it's time to think about some accompaniments and how to arrange everything on on the plate.  Here's what Formaggio has to say:
"Follow your instincts when it comes to pairing cheese with accompaniments. There are some pairings that are a home run every time (Cheddar and apples, Pyrénées Brebis and black cherry preserves, Twig Farm Goat Tomme and an herbal honey, Époisses and Gewürtztraminer). We suggest making note of pairing advice and then moving ahead on your own process of discovery to find pairings that you love. Experimenting with pairings is one of the great joys of learning about cheeses and their many accompaniments."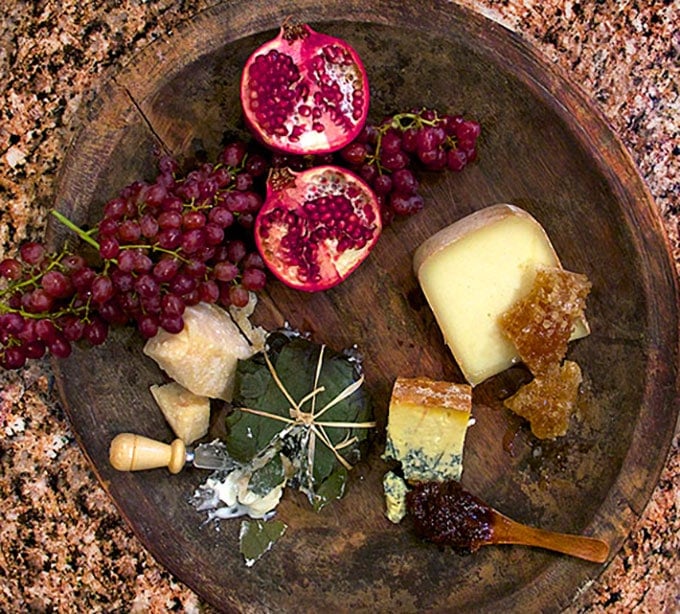 I'm lucky to have some extremely creative friends who were excited to spend a day with me arranging cheese.  They came up with gorgeous and fabulously fun cheese plates!  This rustic cheese platter – designed by my friend Pam – is created on a beautifully weathered shallow wooden bowl.
She chose four cheeses – very distinct from each other in taste and looks. Accompaniments are rustic and beautiful, like the cheeses and the bowl  – a hunk of glistening honeycomb, a heaping spoonful of rich fig jam, a ripe split pomegranate and a large spray of red grapes. I especially love the Castignino Cheese – wrapped in Chestnut leaves and tied with raffia – for this type of platter!
And if you're lucky enough to have a pig tray, definitely use it for the bread!!
After designing the rustic platter my friend Pam started digging through her china to come up with ideas for a fancy/elegant platter.  I watched her arranging some cheeses on a lovely gold-rimmed plate.
Then she grabbed the Brillat Savarin in one hand and, what looked like a piece of gold origami paper, in the other.  With a quick flick of the hand, she touched the sheet of paper to the cheese and gold leafed it  – edible gold leaf
!
It was so striking that we decided that was the only embellishment the platter needed!  It was simple and elegant and perfect with the gold leafed cheese as the centerpiece, and the gold rim of the dish to frame it.
Pam and I went to our friend Carol's house to create the final platter – the Mid Century Modern Cheese Platter.  Carol and her husband Clif are collectors  of Mid Century furniture and dishware, so what you see here is the real deal.
Pam brought over the green retro cocktail picks. She selected the more geometric shaped cheeses and paired them with colorful olives and (who can resist?) a platter of mini sausages and saltines arranged on top of sliced genoa salami!  (pigs in blankets would work well here too!) We also felt that potato chips and cheddar dip was a must!
If you're serving cheese for one of your holiday gatherings, I highly recommend a visit to your local specialty store for some help.  It's a lot of fun to learn about the different cheeses, especially when the selection processes includes tastes! And here's one more word of advice from Formaggio Kitchen:
"The most important rule for putting together a cheese plate: have fun! All of us at Formaggio Kitchen believe that cheese is one of the most fascinating foods in the world. Assembling a cheese plate from our well-curated cheese selection should be as exciting for you as it is for us."
You don't have to be live in Boston or New York to enjoy cheeses and other specialty food items from Formaggio Kitchen. You can order many of them online.
And If you're still looking for a great holiday gift – one of the best selling cheese centric gifts from Formaggio Kitchen is their "Favorites Meat and Cheese Collection." Formaggio also has a cheese of the month club for hard-core cheese lovers who want a regular supply of incredible cheese.
WISHING YOU A HAPPY FESTIVE DELICIOUS HOLIDAY!
Disclosure: This post contains affiliate that help support this site. When you click on a link to an Amazon product and make a purchase, a small percentage is payed to Panning The Globe, at no cost to you. Your support is greatly appreciated!