An ultra simple Italian Fried Potatoes and Peppers recipe that yields the most irresistible potatoes with lots of crisp, brown crunchy bits; intermixed with fabulous fruity fried peppers. Whatever you do, don't put these on the table until you're ready to see them disappear!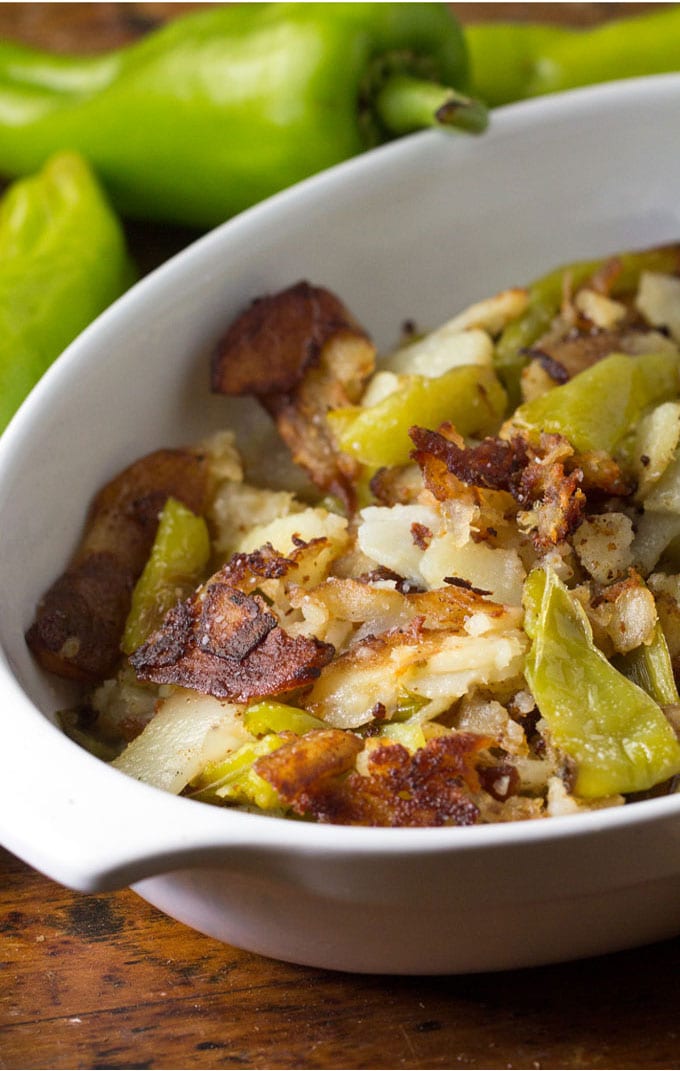 My friend Tullia cooked served these epic fried potatoes and peppers at a dinner party a few years back, and I have not stopped thinking about them. They are everything fried potatoes can and should be - a rustic, irresistible heap of thinly sliced potatoes with brown crisp crunchy parts and soft white creamy parts, mixed in with fruity fried green Cubanelle peppers.
I've been after Tullia's Italian fried potato recipe for years. It's not that she was holding back on me. It's just that, like with many recipes handed down through the generations, there is no recipe. You have to be in the kitchen with the cook, and watch and learn. Happily, a few weeks ago Tullia came over to my house and showed me how to make her amazing crispy Italian fried potatoes and peppers.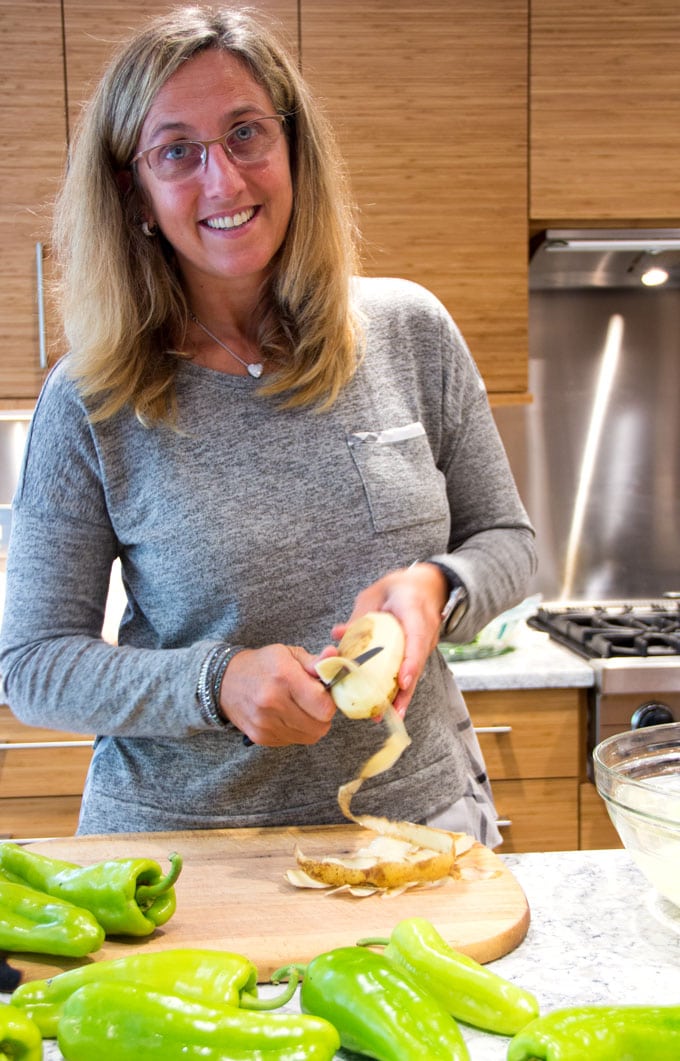 You learn fun things about your friends when you cook with them. I always knew Tullia was a fabulous cook, but I never knew about her superhuman knife skills. Tullia cuts everything by hand with the speed and accuracy of a machine. She doesn't use a peeler to skin potatoes. Just a knife. And she hand slices like a human mandolin. I watched her cut five potatoes into paper-thin slices...holding them in her hand (no cutting board)....and it took her about 5 minutes.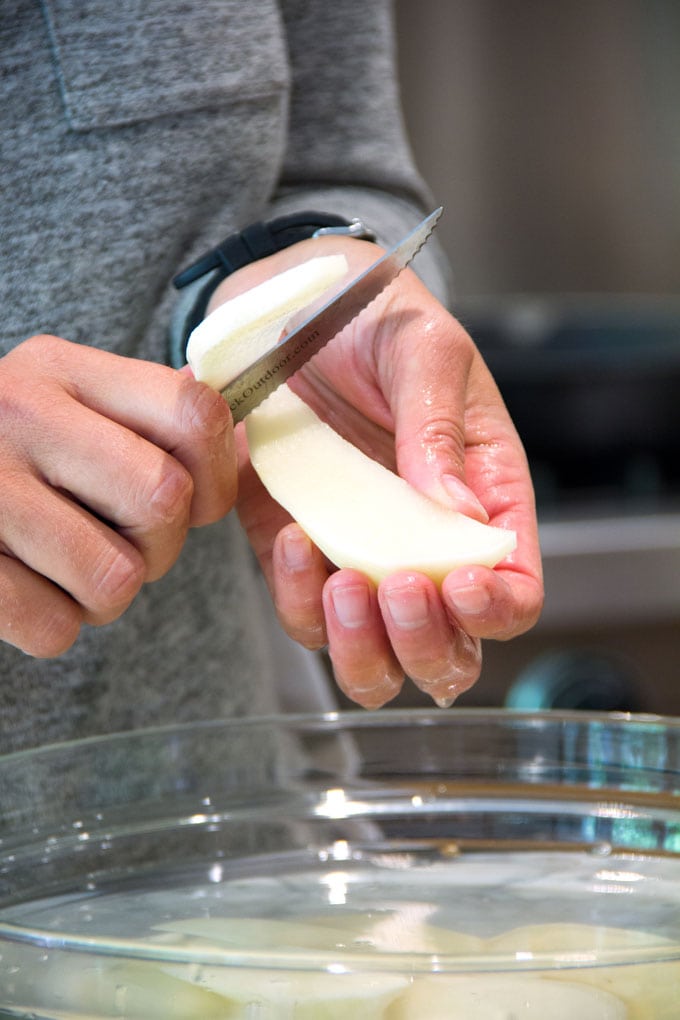 How to make Italian Crispy Fried Potatoes and Peppers:
You need just two ingredients for this recipe: russet potatoes and Cubanelle peppers (Italian frying peppers), plus oil and salt.
Peel the potatoes and slice them thinly - Unless you have mad slicing skills like Tullia, I suggest you use a mandolin or, even better, a food processor. Cut the peppers into 2-inch pieces.
Fry the potatoes and peppers - Heat oil in a heavy skillet over high heat. Add the potatoes and toss to coat them with oil. Let the potatoes fry, undisturbed, for a few minutes, until they get crisp and brown on the bottom. Throw in the peppers on top and season with some salt.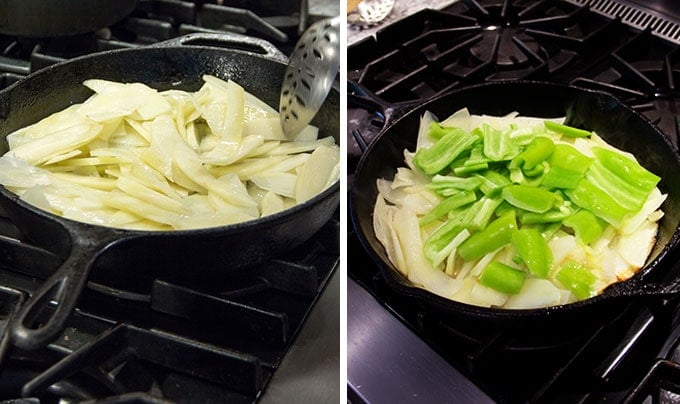 Flip the potatoes and peppers and leave them for a few minutes until the bottom layers gets some brown and crispy bits. Keep going like this - flipping and letting the bottom brown - until you have a good ratio of brown crunchy parts to white creamy parts.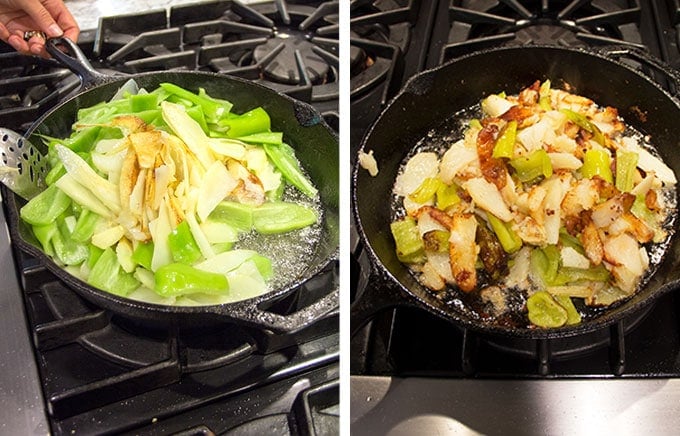 Season fried potatoes and peppers with salt, to taste, and serve immediately.
Tullia is famous in our neighborhood for her amazing Italian home cooking. She learned from her Calabrese mother.
Tullia's mom mostly made these fried potatoes for dinner, but also for breakfast and lunch. Sometimes Tullia's mom would wake up at 5am to cook up a fresh batch of fried potatoes and peppers. She'd stuff them into a big soft baguette to pack for her husband's lunch. He was a landscaper and started his day early. Tullia told me: "Dad got it for a sandwich but it had to be freshly made. No using leftovers."
Tullia emphasized many times that this dish should be cooked and served immediately. When I asked if it could be reheated, Tullia said: "No, but it doesn't matter. It's one of those dishes you just put down and it's gone."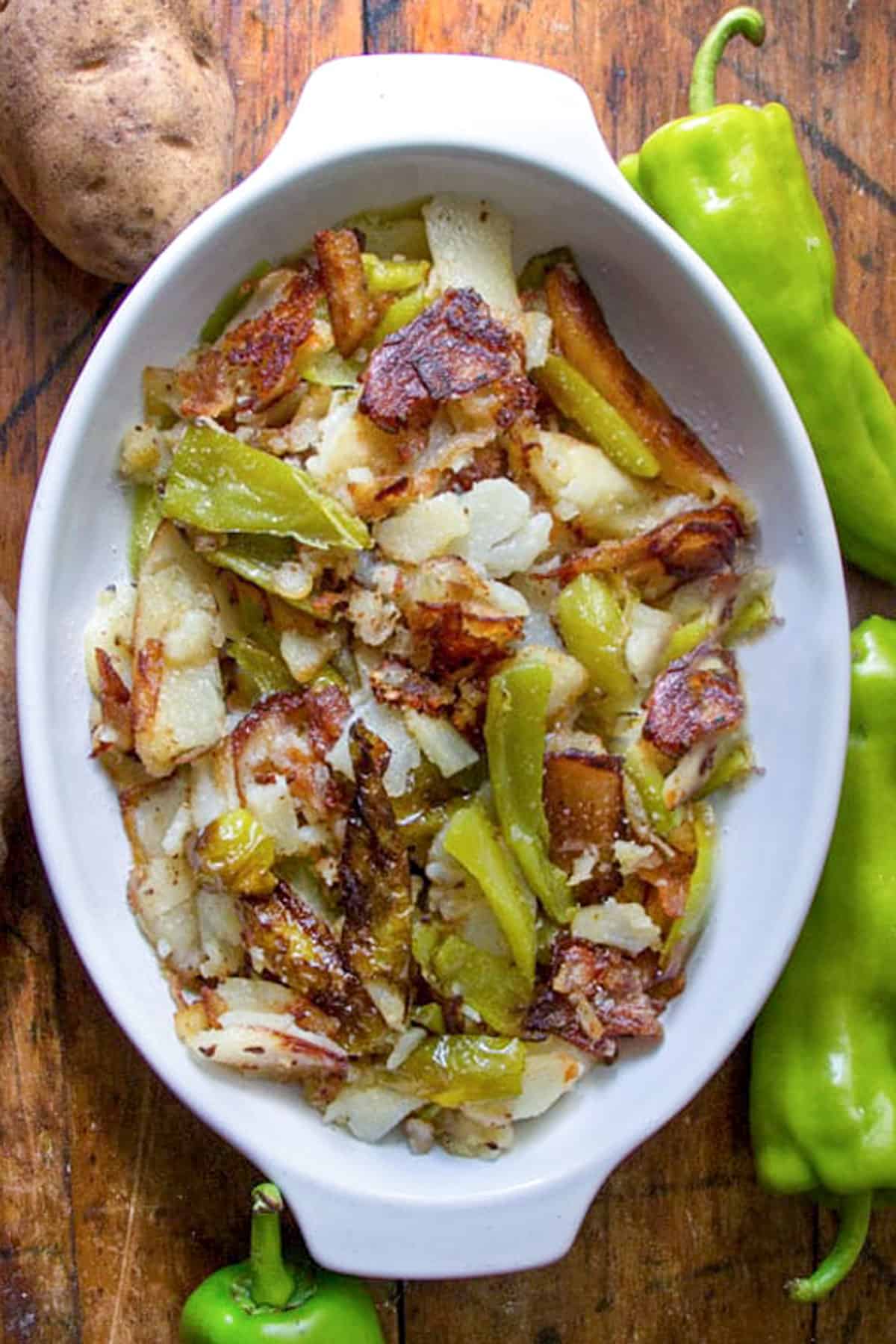 What to serve with Italian fried potatoes and peppers
I love serving these potatoes with this simple Slow Roasted Chicken. While the chicken is in the oven, you'll have plenty of time to get the potatoes and peppers sliced and pan-fried. These are delicious alongside Grilled Swordfish Salsa Verde, Sicilian Turkey Meatloaf, or any simple fish, chicken or beef dish that calls for potatoes on the side.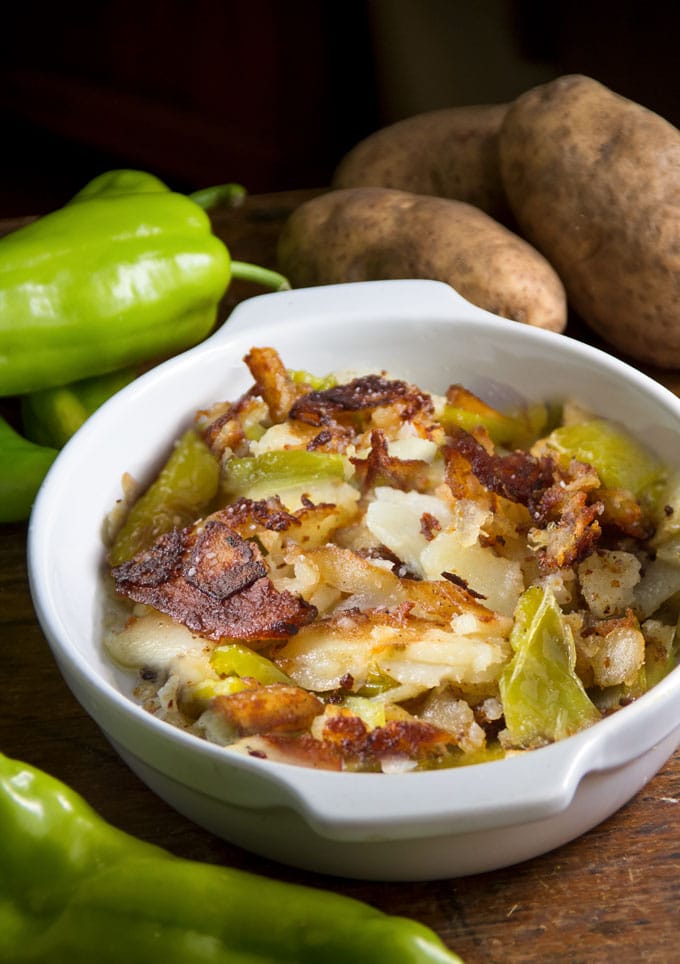 Here's the Crispy Italian Fried Potatoes and Peppers recipe. If you cook this, I hope you'll come back to leave a star rating and a comment. I'd love to know what you think?
Print
Crispy Italian Fried Potatoes and Peppers
---
Author:

Lisa

Total Time:

45 mins

Yield:

4

-5

1

x
Description
A simple but special side dish of crispy browned potatoes and flavorful peppers.
---
Recommended Equipment: A mandolin or food processor with the slicing blade attachment; a large (12") heavy cast iron skillet
½

to

¾

cup

canola oil (or enough oil to come up to about ¼ inch in your skillet)

5

large Idaho russet potatoes

4

long Italian green peppers (also called Italian frying peppers or Cubanelle peppers) ribs and seeds removed, cut into 1-inch by 2-inch pieces.
Kosher salt or Sea Salt, to taste (My favorite is Malden sea salt)
---
Instructions
Fill a large bowl halfway with cold water. Peel the potatoes and place them in the water as you go, to prevent discoloration.
Slice the potatoes thinly (⅛-1/4 inch thick) and place slices in the bowl of water, as you go. I recommend using a mandolin or a food processor with the slicing blade attachment. Or you can slice them by hand with a sharp knife.
Lay an absorbent dish towel on the counter and have another one or two handy. Drain the sliced potato in a mesh strainer and dump them onto a towel. Pat and blot them dry. They will brown better if you get them nice and dry.
Heat oil in a large skillet (preferably cast iron) over high heat, until hot but not smoking. Add the potato slices and immediately toss them until they're all coated with oil. Let the potatoes cook, undisturbed, for 3-5 minutes, or until the bottom pieces look brown around the edges. Mound the peppers on top and add a pinch or two of salt. Flip the potatoes over with a spatula, so some raw potatoes and peppers are on the bottom of the skillet. Leave them undisturbed for another 3-5 minutes, until they are nice and brown on the bottom. Continue to brown and toss potatoes for 5-10 minutes longer, until about half of them are crisp and brown and the rest are soft and creamy.
Serve hot. Season, to taste, with salt.
Notes
Nutrition Information: The information shown is an estimate provided by an online nutrition calculator and is not a substitute for a the advice of a professional nutritionist.
Prep Time:

25 mins

Cook Time:

20 mins

Category:

Side Dish

Method:

Pan Fry

Cuisine:

Italian
Keywords: pan fried potatoes and peppers, potato side dish
[First published Nov 2, 2016. Refreshed and updated on Dec 17, 2021 with added nutritional information, serving suggestions, and some clarifying details in the written post. The same delicious recipe!]