Chinese Beef and Broccoli Stir Fry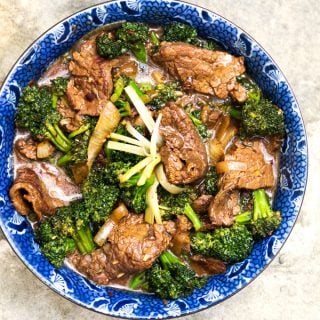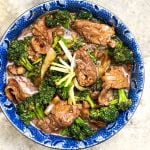 Author: Panning The Globe
Prep Time:

30 mins

Cook Time:

10 mins

Total Time:

40 mins

Yield:

4

1

x
Category:

Main Course

Cuisine:

Chinese
Scale
Ingredients
For the Beef:

1

pound beef round steak or flank steak, sliced lengthwise into 2 1/2 inch wide pieces and then crosswise (against the grain) into 1/8 inch thick slices. Try freezing the beef for an hour or two to firm it up for easier slicing.
Marinade:

2 tablespoon

s soy sauce (available gluten-free)

1 teaspoon

brown sugar

4 teaspoon

s cornstarch

1 tablespoon

peanut oil
Sauce Ingredients:

2 tablespoon

s rice wine or dry sherry

4 teaspoon

s brown sugar

4 teaspoon

s soy sauce

1 tablespoon

hoisin sauce (available gluten-free)

1 teaspoon

Chinese or Japanese sesame oil
Broccoli:

8 cup

s bite-sized broccoli florets (from

2

crowns – reserve stems for another use)
For Stir-frying:

4 tablespoon

s peanut oil or canola oil, divided

1 teaspoon

kosher salt

1/2 teaspoon

sugar

4 Teaspoon

s Chinese Rice Wine or dry sherry

5 tablespoon

s water
Aromatics for the Stir-fry:

1

small onion, peeled, halved and thinly sliced

4 teaspoon

s finely minced ginger

2

large cloves of garlic, minced (about

1 tablespoon

)

1/2 teaspoon

crushed red pepper flakes
Instructions
Marinate the Beef: Combine marinade ingredients. Put beef and marinade ingredients into a plastic bag. Massage the meat, through the bag, to coat it with marinade. Press out the air and seal shut. Set aside to marinate for 30 minutes at room temp or up to 24 hours in the fridge.
Make the Sauce: Combine sauce ingredients in a small bowl. Set aside.
Blanch the Broccoli: Bring a quart of water to a boil in a large saucepan. Add broccoli and leave it for 1 minute. Transfer to a colander. Run cold water over broccoli to stop the cooking process and set aside to drain.
Stir-Fry Broccoli: Heat a wok (or large heavy skillet) over high heat until hot enough to instantly evaporate a drop of water. Add 2 tablespoons oil to the wok and swirl to coat. Reduce heat to medium-high. Add the broccoli and stir-fry for a minute, constantly turning and tossing the florets to sear them and coat them with oil. Lower the heat if they start to burn. Sprinkle broccoli with 1 teaspoon salt and 1/2 teaspoon sugar. Toss to coat. Add the wine. After it hisses, stir everything around. Add water and bring liquids to a simmer. Cover the wok and let the broccoli steam for about 40 seconds. Remove the cover and scrape broccoli into a large bowl and set aside. Wipe out wok.
Stir-Fry Beef and Finish the Dish: Return wok it to high heat. Add 2 tablespoons of oil and swirl to coat. Reduce heat to medium high. Add onion and stir fry for a minute. Add ginger, garlic and red pepper flakes. Stir fry for about 10 seconds, until aromatic. Add beef and stir fry actively, until 90 percent of the pink color is gone, adding more oil, if necessary, to prevent sticking. Give the sauce a stir and pour it into the wok. Toss to combine. Return the broccoli to the wok and cook, stirring, to reheat the broccoli and finish cooking the beef. Scrape the stir-fry onto a large platter and serve hot, with white rice, if you like.