This savory Cheshire Pork Pie is filled with thin slices of pork tenderloin layered with tart apples, wine and spices; encased in a rich double pastry crust; and baked. Take a step back in time and enjoy this delicious pork pie recipe from the 18th century.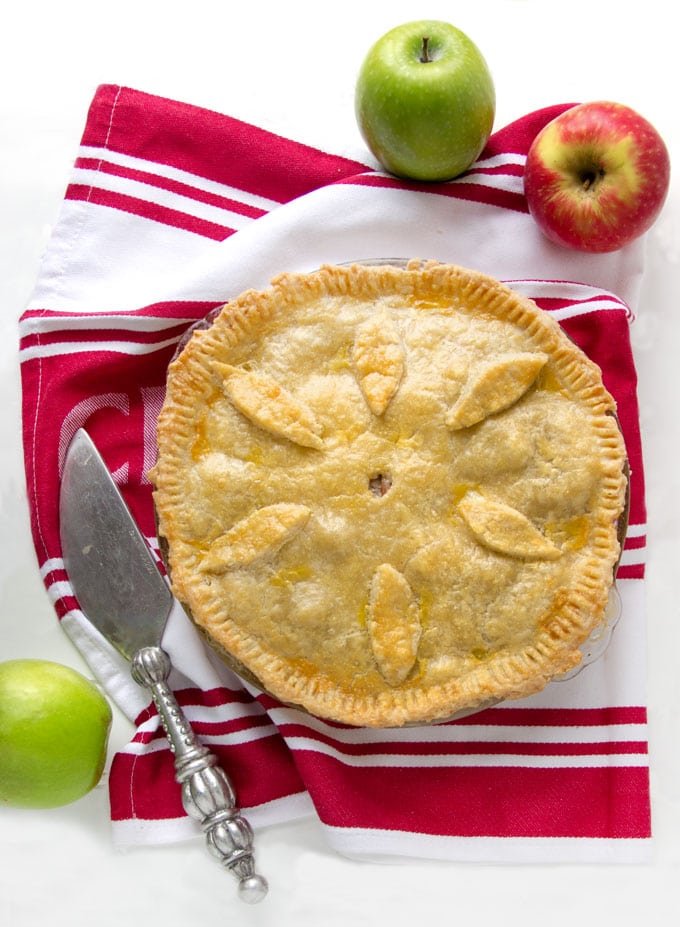 Today I'm traveling back in time to bring you a recipe for delicious Cheshire Pork Pie from 1745. The recipe has been updated since its inception, and you'll understand why when you see how the original recipe was written.
Joining me today, to tell you all about the joys and challenges of cooking historical recipes, is culinary historian Brook Elliott. Brook Elliott and his wife, Barbara, are living history interpreters who recreate the lifestyles of the late 18th and early 19th century, focusing on the Trans-Allegheny Exploration and Settlement period (1750-1792).
"You cannot understand any culture," Brook says, "without paying especial attention to the foods and cooking techniques of the time." With that in mind, the pair have spent more than a quarter century learning about the food ways of Colonial America, and reproducing those foods for the modern palette.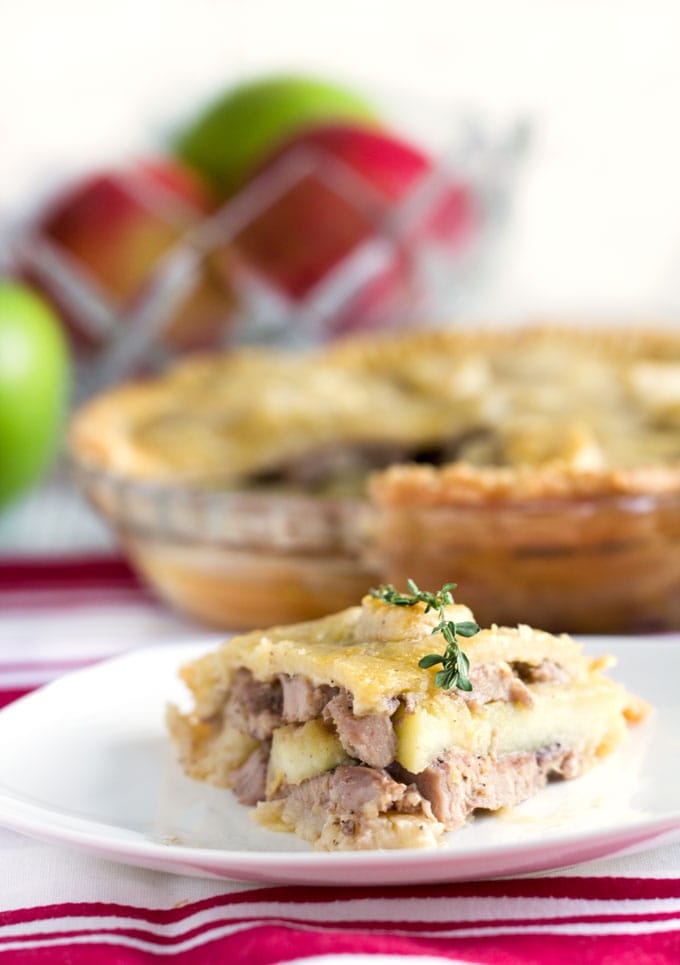 The Challenges of Adapting Historic Recipes
"Adapting historic recipes is always an adventure," says Brook. "In addition to the obvious problems, such as language differences, unfamiliar ingredients, and lack of instructions, it is important that you first understand the world view of the people you are emulating. You cannot bring a 21st century mindset to a different time period and expect your interpretation to be correct.
A good example is the oft-heard contention that colonial (and earlier) cooks used herbs and spices to cover the taste and smell of rancid meat. Nothing could be further from the truth. So let's debunk that myth right now.
People in the 18 century were fully aware of bad meat, and would no more willingly eat it than we would. For instance, Boston's Haymarket Square, which, until they moved it in the 1980s, was the longest continually operated market in America. As far back as 1630 a market was operating on that spot. By 1633 the Colonial government had to post rules for its use. Among them: "No blown, rotted, or spoilt meat may be offered for sale."
What is true, however, is that they liked big, bold flavors back then. They preferred their proteins on the high side, just as they still do in England and parts of Europe. And they used herbs and spices with a lavish hand; so much so that many of their favored dishes would be considered inedible by today's standards.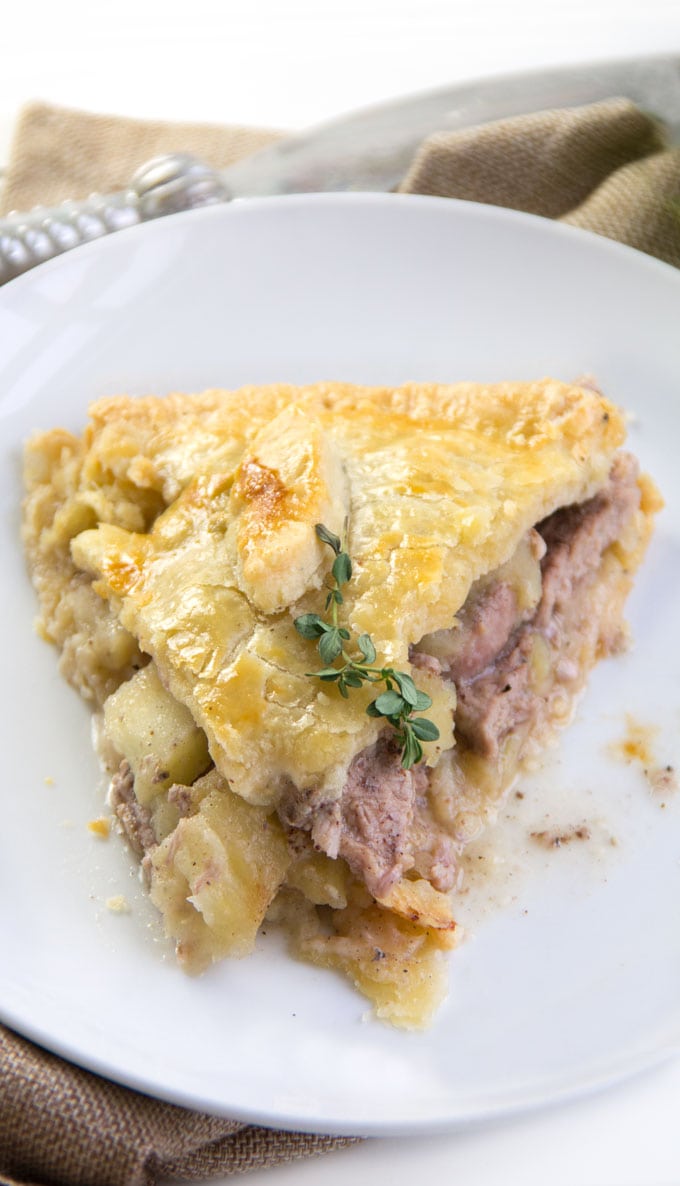 Historic recipes are often vague and confusing when it comes to cooking terms
"Another challenge (when interpreting historic recipes) has to do with cooking terms and instructions. Take the term 'roast,' for instance. There are five or six modern techniques, all of which were called roasting in those days. So which one did the recipe mean?
Ingredient amounts and cooking times were rarely listed in period recipes. And when they were, they often were vague at best. The number one ingredient amount, for example, is 'some;' as in 'strew with sage, beaten fine, and some cinnamon, and cook 'til enough.'
Let's analyze that phrase. 'Strew,' obvious enough, means sprinkle. 'Beaten fine' doesn't mean pounding. It refers, rather, to chopping---in this case, mincing is more likely. And 'til enough' simply means it is cooked until it is done.
There's a reason for this seeming vagueness. When a recipe was written down, the presumption was that you already knew how to cook. You had, after all, learned it at your mother's knee. So there was no need for the cooking minutia that is the hallmark of modern recipes. And in fact, the above phrase is the complete set of directions for a particular chicken dish."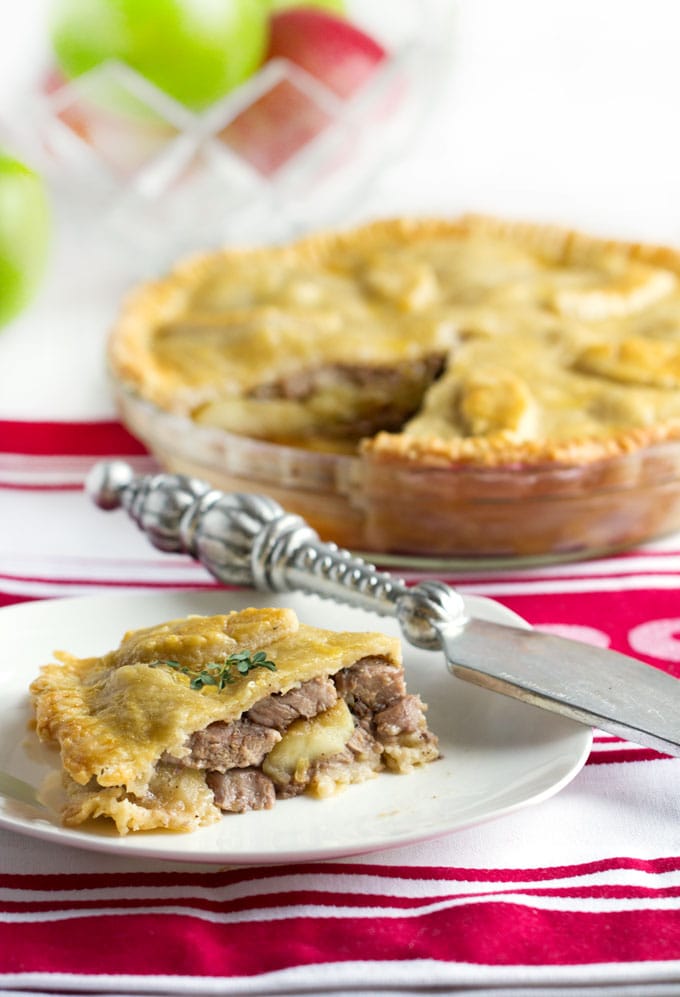 "A final note on interpreting period recipes: In the 18th century they cooked humongous quantities. Our adaptation of Cheshire Pork Pie, with 1 ½-2 pounds of meat, serves four to six people. The original called for an entire pork loin, which, in those days, could weigh 15-20 pounds. These huge amounts are not untypical. So recipes have to be adjusted accordingly."
How to make a Cheshire Pork Pie in 1745
Here is the original recipe for Cheshire Pork Pie from The Art of Cookery Made Plain and Easy by Hannah Glasse, 1745
TO MAKE A CHESHIRE PORK PIE:
Take a loin of pork, skin it, cut it into steaks, season it with salt, nutmeg, pepper; make a good crust, lay a layer of pork, then a large layer of pippins pared and cored, a little sugar, enough to sweeten the pie, then another layer of pork; put in half a pint of white wine, lay some butter on top, and close your pie: if your pie be large, it will take a pint of white wine.
You can clearly see the challenges in cooking this recipe: no amounts listed for the meat or spices; no recipe or instructions for the crust; no cooking temperature or timing is specified... Here's how Brook and Barbara updated the Cheshire Pork Pie recipe for their cookbook: "A Colonial Virginia Book of Cookery"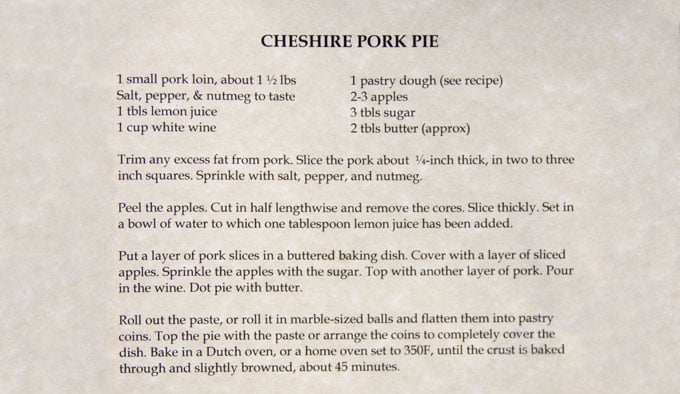 Brook discusses his thoughts about changing a historic recipe: "Is the goal to modernize it? Or to adapt it? Superficially that seems like the same thing. But modernization means using readily available ingredients as substitutes for the actual products specified, or substituting more popular modern ingredients. Nothing wrong with that approach. But we're not into modernizing. Our goal is to use the original ingredients as much as possible, but adapt them in such a way as to maintain the flavor profile of the dish, while making it palatable to modern tastes. Not always an easy task. It often takes multiple attempts before we're satisfied that we've come as close to achieving that goal as possible."
I cooked Brook and Barbara's recipe for my family, and we loved it. The pork was tender and the flavors of the apples, wine and nutmeg paired beautifully.
I cooked the pie a few more times and made a few adaptations of my own, without modernizing or compromising the flavor profile of the original dish. My changes were mainly in the presentation. I wanted a double-crusted pie so that it would hold together well when sliced. I also wanted a thicker sauce and a reduced amount of liquid in the finished pie so the crust wouldn't be soggy.
How to make this delicious updated Cheshire Pork Pie recipe
A simple pastry dough is prepared and used to line a pie pan. The pie is filled with sautéed apples, raw sliced pork tenderloin, spices, butter and wine. The pie is covered with a top crust and baked.
Make a double pastry dough and chill it in the fridge while you prepare the rest of the ingredients.
Peel, core and slice two Granny Smith apples into ⅓-inch rings. Soak them in lemon water to prevent browning.
Cut a 1 ½ pound pork tenderloin into ¼-inch slices.
Brown the apple slices in butter for a few minutes per side. Set the apple slices aside and add wine to the skillet. Simmer, stirring to release the bits of browned apple, until wine is reduced by half.
Assemble the Pie: Roll out one pastry crust and line a pie pan with it. Arrange half of the pork slices in the crust. Sprinkle with spices. Arranged the apples over the pork. Sprinkle with sugar. Arrange the rest of the pork slices over the apples. Season, pour the reduced wine over the top, and dot with butter. Roll out the top crust and cover the pie. Trim the edges and use the trimmings to cut out decorative leaves, if you like.
Bake: Brush the top crust with egg wash. Bake for 45 minutes. Slice and enjoy!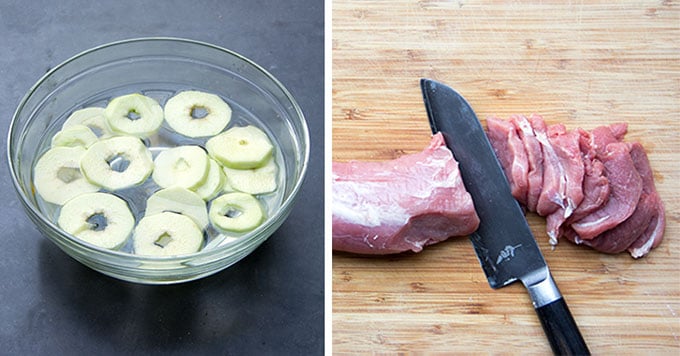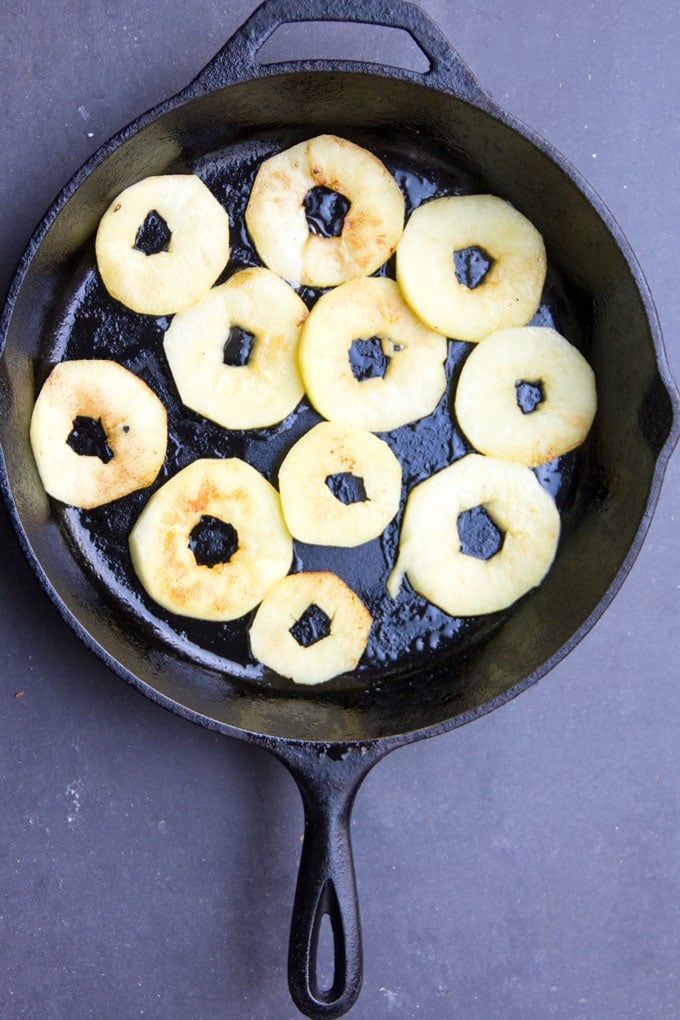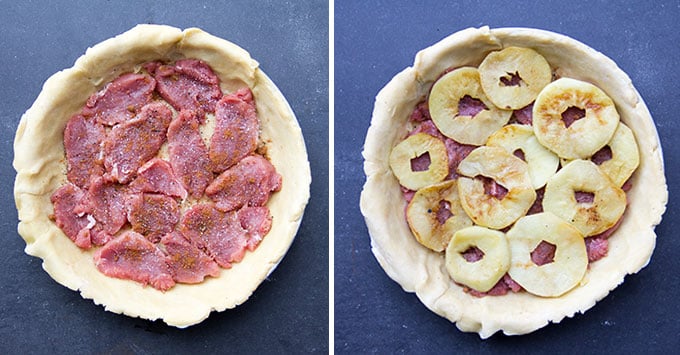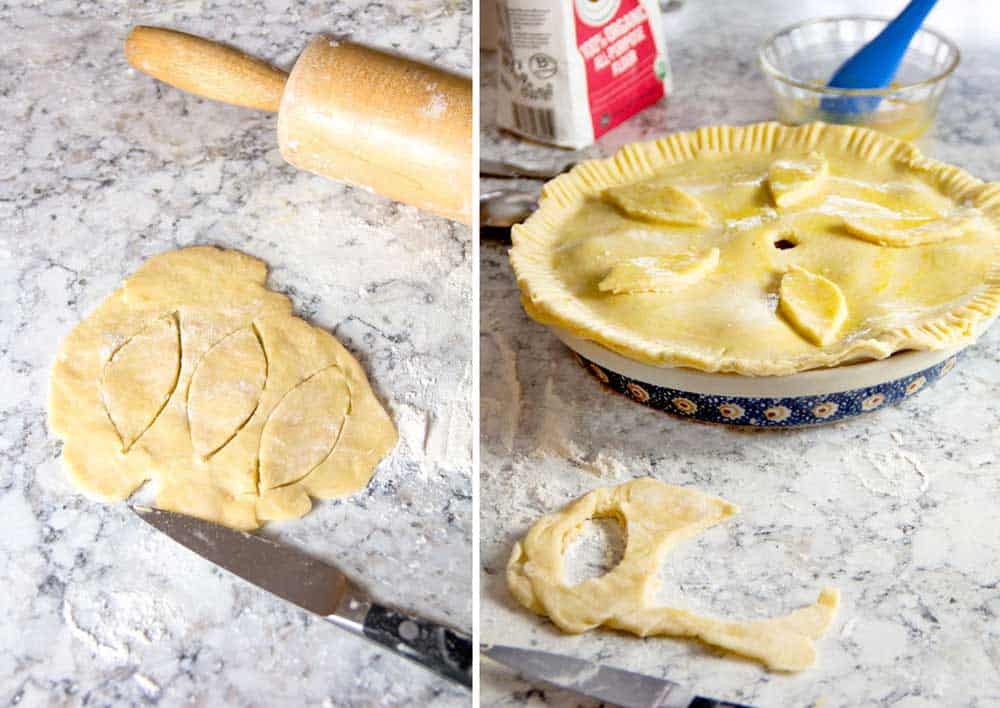 You might also like: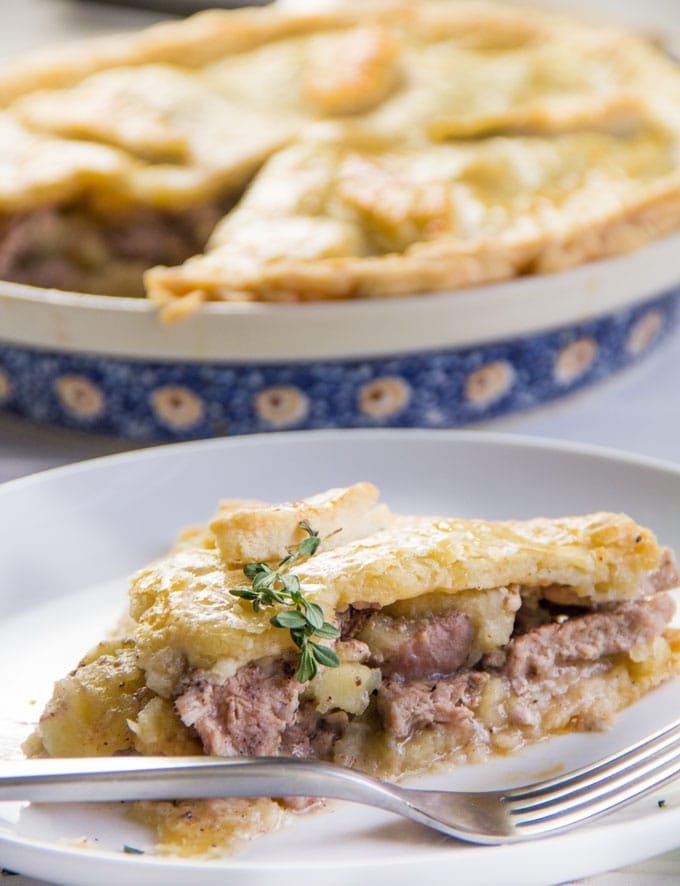 I first met Brook Elliott when he invited me to join The Foods Of The World Forum - an on-line community focusing on the crossroads of food, history, geography and culture. I'm so grateful to Brook for introducing me to the forum, to this delicious Cheshire Pork Pie, and for sharing so many wonderful insights about historic recipes.
Brook and Barbara Elliott have condensed much of what they've learned about period recipes (called "receipts" in those days) in their two cookbooks: "A Colonial Virginia Book of Cookery, and A Colonial Virginia Book of Cookery, Second Table." You can order their books ($17.50 each), along with some of their other products and a full catalog, from Historic Foodways, PO Box 519, Richmond, KY 40476. You can contact Brook and Barbara via email at HistoricFoodways@hotmail.com.
Here's the Cheshire Pork Pie recipe. If you make it I hope you'll come back and leave a star rating and a comment. I'd love to know what you think!
Print
Cheshire Pork Pie Recipe
---
Author:

Lisa

Total Time:

1 hour 25 mins

Yield:

5

-6

1

x
Description
A hearty meat pie made from lean pork tenderloin, tart apples and spices. Simple and delicious.
---
Equipment:  a 9 or 10-inch pie pan, lightly oiled or buttered
For The Pastry Dough (makes a double crust):
2

sticks cold unsalted butter

2 cups

unbleached all-purpose flour plus more for dusting

1 teaspoon

salt

6 tablespoons

cold water
For The Pork Pie Filling:
1

small pork tenderloin about 1 ½ pounds, trimmed of fat and cut, crosswise, into thin slices (¼-inch).

2

granny smith apples

1 tablespoon

lemon juice

3 tablespoons

cold, unsalted butter, divided

1 cup

dry white wine (Vermouth works well)

3 tablespoons

sugar (I used white sugar)

½ teaspoon

ground nutmeg, divided

1 teaspoon

kosher salt, divided
Freshly ground black pepper, to taste

1

large egg
---
Instructions
Cut butter into small chunks and put it into the bowl of a food processor fitted with the s-shaped chopping blade. Add flour, and salt. Pulse about 10 times. Then add the water and pulse about 10 more times or until the texture resembles cornmeal. Pour the mixture into a large bowl or onto a clean surface and, using the heal of your hand, press it little by little, until the butter and flour are incorporated. Divide the dough in half, gather it into two balls, flatten the balls into discs, cover with plastic wrap and refrigerate for at least 15 minutes or up to 24 hours.
Fill a large bowl with cold water and add 1 tablespoon lemon juice. Peel and core the apples and slice them into ⅓-inch rings, placing the rings in water as you go, to prevent discoloration.
Melt 2 tablespoons butter over medium heat in a large skillet (preferably cast iron). Add sliced apples in a single layer and let them brown for 2 minutes per side. Use a spatula to gently transfer apples to a plate. Pour the wine into the skillet and bring to a boil over medium-high heat. Let the wine bubble for 2-3 minutes, scraping the bottom of the skillet with a rubber spatula or wooden spoon, to release any bits of cooked apple, until wine has reduced by half. Pour into a heat-proof cup and set aside.
Preheat the oven to 350ºF. Generously dust your work surface and rolling pin with flour. Remove one disc of dough from the fridge. If it's been in for more than 15 minutes, let it warm up and soften for a few minutes. Roll the dough out into a thin 13-inch circle. Line your pie pan with the dough, trimming off the excess. Save the excess to make decorative leaves for the top crust, if you like.
Arrange half the pork slices in the bottom of the crust. Season with ½ teaspoon of salt, ¼ teaspoon of nutmeg and a few grinds of pepper. Arrange all of the apple slices on top of the pork. Sprinkle evenly with sugar. Arrange the rest of the pork over the apples and season with the remaining ½ teaspoon of salt, ¼ teaspoon of nutmeg, and a few grinds of pepper. Chop up the remaining tablespoon of butter and scatter it over the pork. Pour the reduced wine evenly over the filling.
Roll out the top crust as you did for the bottom. Cover the pie and trim the excess, using the tines of a fork to press and seal edges of top and bottom crusts together. If you want to decorate your pie, roll out excess dough and cut out leaves or any shapes you like. Whisk the egg with a teaspoon of water. Brush the top of the pie with egg wash. Place decorations on and brush them with a little egg wash.
Bake pie in the middle of the oven for 45 minutes, until the crust is lightly browned. Let the pie stand for 5-10 minutes before slicing. Enjoy!
Prep Time:

40 mins

Cook Time:

45 mins

Category:

Dinner

Method:

Bake

Cuisine:

English
Keywords: Pork pie, historic recipe for pork pie, pork and apple pie recipe