Arugula pesto is an incredibly delicious sauce for pasta: peppery arugula, garlic, sweet buttery pistachios, bright notes of lemon, and rich parmesan. Plus, you can make it in just ten minutes!
Arugula makes great pesto. Its bright peppery flavors harmonize beautifully with toasted pistachios, lemon, garlic, and parmesan cheese. It makes a vibrant, delicious sauce for pasta. I developed this arugula pesto recipe at the request of my oldest son Alex, for a special pasta dinner that I'll tell you about, because it was one of the most amazing dinners of my life.
When Alex told me that he was getting into making homemade pasta, I was very psyched on so many levels: I adore pasta, I love when my kids get into cooking and I'm in awe of homemade pasta.... Alex lives in New Orleans. I asked him if he would make pasta for us when he came home for Thanksgiving break. He said yes. That plan grew into a six course dinner party for 11 people, with 6 homemade pastas and 6 homemade sauces. Our whole family was in the kitchen making pasta together for two solid days leading up to the party. We learned so much about making pasta had we had a total blast!
Here's a photo Alex and me, still making the final pasta - "Caramelle" - about ½ hour before our guests arrived on Saturday night.
Trofie with arugula pesto was the first pasta course of our dinner and everyone loved it: tender coils of dough tossed with rich vibrant pesto... I've since made the arugula pesto twice and served it once over store-bought thin spaghetti and once with capellini. If you don't have homemade trofie on hand, you will be very happy with either of those options.
Trofie takes lots of time and skill to make. Each little piece of pasta is hand rolled and then finessed with a knife, to get the special coils.
Check out this cool slo-mo video of Alex shaping a trofie noodle, that I posted on Panning The Globe's Facebook page.
By the time we sat down to the first course, I was so excited to try the trofie and I enjoyed it so much that I forgot to take a picture. Here's a photo I took the next day with some leftovers.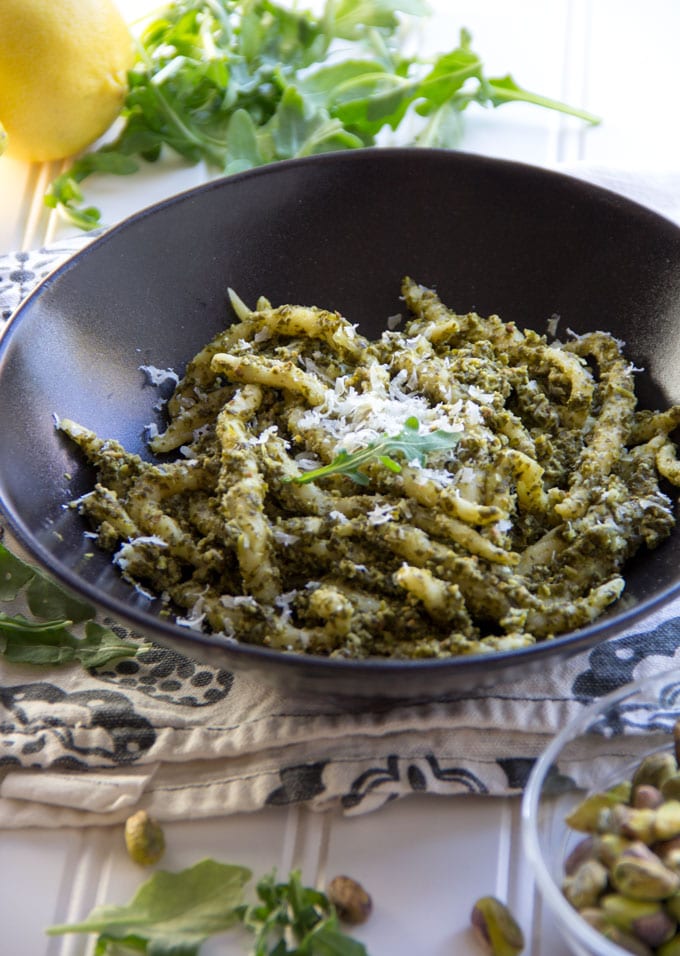 The dinner was spectacular. Each course had a unique hand-crafted pasta and delicious homemade sauce. All the time, effort, and joy that went into shaping each individual piece of pasta shined through, and made the dinner even more special.
The final pasta, called "Caramelle," was dessert: candy-shaped, stuffed with a puree of caramelized onions and figs, and sauced with a fondue of gorgonzola cream.
Here are all the pastas and sauces we served at our 6-Course Pasta Dinner:
1. Semolina Trofie – arugula pesto, pistachio, lemon, parmesan 2. Gnochetti Sardi – guanciale, red onion, tomato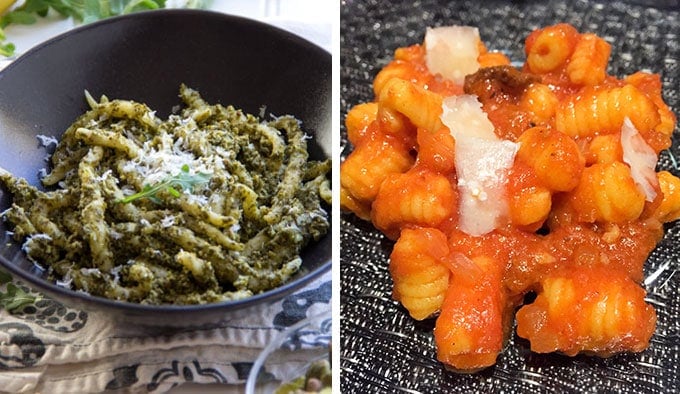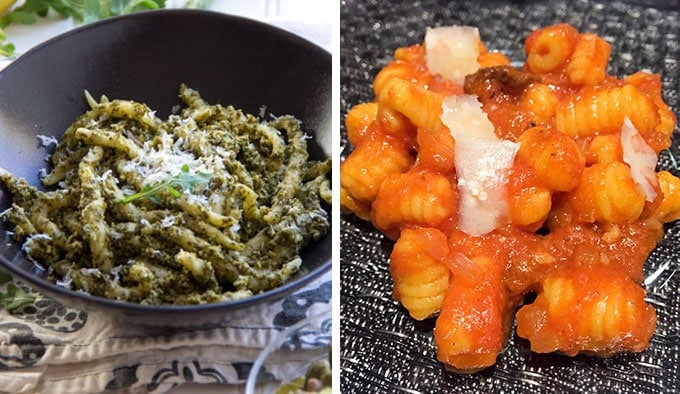 3. Dunderi Giganti – al sugo, fresh basil 4. Butternut Squash Gnocchi – brown butter, sage, speck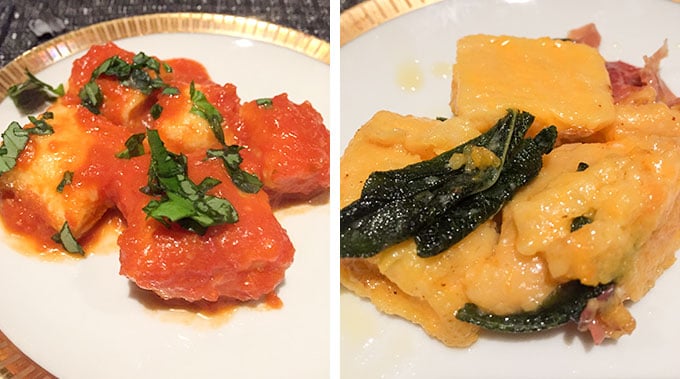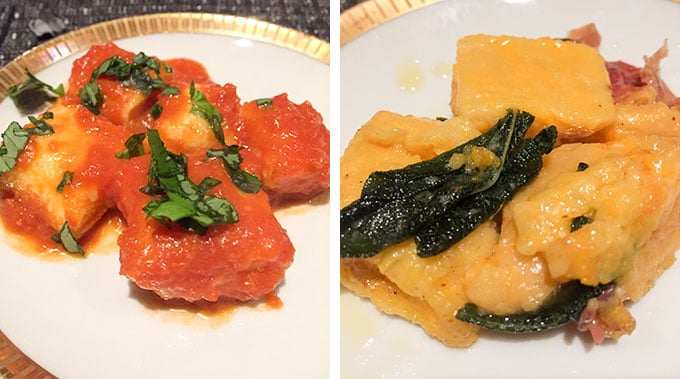 5. Pappardelle – turkey ragu, Brian-fried poached egg, parmesan 6. Caramelle – Spanish onion, fig, gorgonzola fonduta
I would love to give you every recipe of this dinner and maybe over time I will. For now, I'm excited to share this extremely delicious, quick and easy arugula pesto recipe. Another thing I love about this pesto is that baby arugula is widely available year round. I buy it in plastic boxes at Whole Foods. This recipe uses 1 ½ of those boxes. It's pre washed and you don't even have to remove the stems. Just grind it up in your food processor with cheese, garlic, pistachios, lemon, olive oil salt and pepper. Toss it with your favorite pasta and enjoy!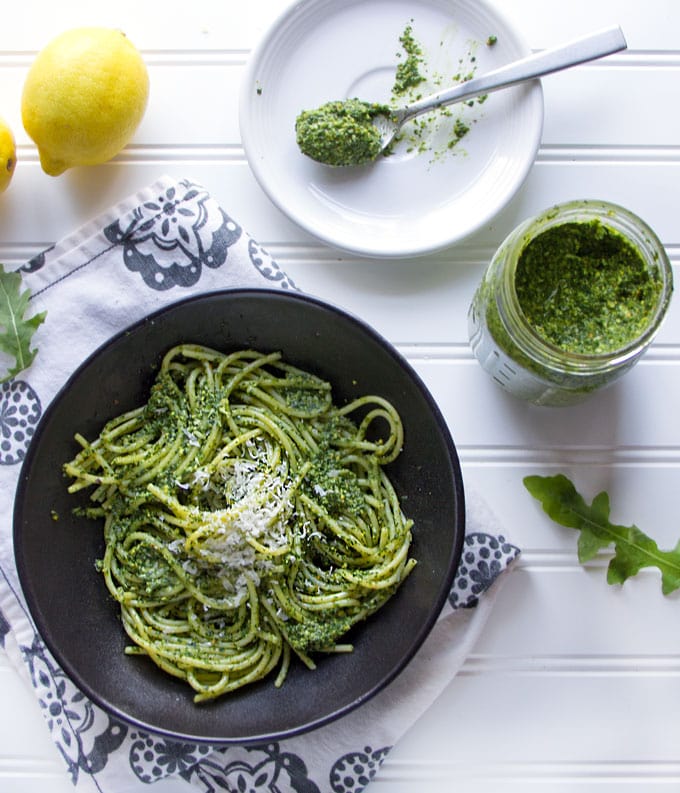 If you're interested in making some of the pasta recipes listed above, here are some resources that will help:
These are the two cookbooks Alex used to learn how to make all the pastas and some of the sauces:
Mastering Pasta: The Art and Practice of Handmade Pasta, Gnocchi, and Risotto
Pasta by Hand: A Collection of Italy's Regional Hand-Shaped Pasta
Here's the link to my Turkey Ragu recipe, that we served over the pappardelle pasta, with the fried poached egg on top.
My son Brian made the fried poached eggs. Here's his recipe: first he poached all 12 eggs, making sure to keep the yolks runny. Then he set up a classic breading station like the one pictured in this post for Chicken Schnitzel. Fist he dipped the poached eggs in seasoned flour to coat them, then he dunked them in a bowl of whisked eggs, then he rolled them in Panko bread crumbs to coat. Then he fried them in a skillet, in about an inch of canola oil.
Here's the recipe for pistachio arugula pesto with pistachios and lemon. I hope you enjoy! If you make this I hope you'll come back and let me know how it turned out.
Print
Ten Minute Arugula Pesto
Delcious, flavor-packed pesto sauce. Perfect over delicate homemade pasta or a fine store-bought pasta such as angel hair or capellini.
This recipe makes enough pesto for saucing 1 pound of pasta.
Author: Lisa
Prep Time:

10 mins

Cook Time:

0 min

Total Time:

10 mins

Yield:

6

1

x
Category:

Sauce/Dip

Method:

no cook

Cuisine:

Italian
1 tablespoon

minced garlic (

2

large cloves)

⅓ cup

shelled, unsalted pistachios, lightly toasted in a dry skillet, cooled

1 teaspoons

kosher salt

7 ounces

baby arugula

¼ cup

freshly squeezed lemon juice plus more, to taste

½ cup

extra virgin olive oil, more or less (depending on the desired consistency)

1 cup

(

2 ounces

) finely grated good quality parmesan cheese, plus more to sprinkle on top (I recommend Parmigiana Reggiano)
Instructions
Put the garlic, toasted pistachios and salt in the bowl of your food processor, fitted with the steel chopping blade. Pulse for 10 seconds or so to a fine chop. Add one third of the arugula and pulse to a rough paste. Repeat twice more with remaining arugula, until everything is combined into a paste. Add the lemon juice and pulse for a few seconds, to combine. With the motor running, drizzle in the olive oil to emulsify the sauce. Scrape the pesto into a bowl and stir in the parmesan cheese.
Cover and chill for up to three days.
Notes
How to make pasta with arugula pesto: cook a pound of pasta in salted water. Reserve 1 cup of pasta cooking water and then drain the pasta and put it back into the pot. Add the pesto and toss the pasta to coat, over medium-low heat, adding pasta cooking water, a tablespoon at a time, until you get your desired consistency. Season with salt, to taste. Serve hot. Pass around extra parmesan cheese.
Keywords: pesto recipe, arugula pesto recipe