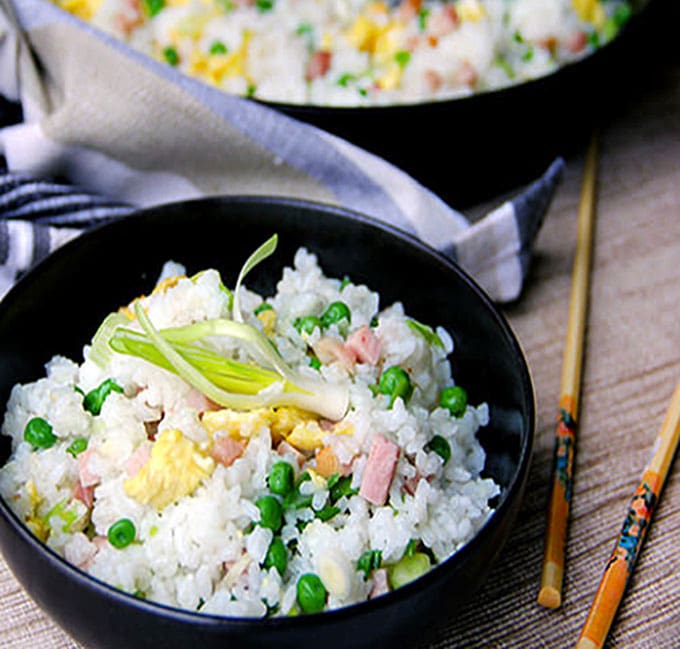 This recipe for Chinese ham and egg fried rice is so simple.  It's just 5 ingredients, plus some oil to stir-fry and some salt to season.  Once the rice is pre-cooked and chilled, you can throw this dish together in 15 minutes or less.  Why is it so delicious?  I think the peanut oil and the scallions are important to the flavor.  Also, rinsing the rice gives it a wonderful chewy texture and a clean delicious taste.  I always thought of fried rice as that brown, hard-grained, super salty stuff you get at most Chinese restaurants.  But my research has found that authentic Chinese fried rice is a simple fresh dish, which contains no soy sauce whatsoever.
Rinsing the rice several times before cooking is a key step in this recipe.  It gives the rice a great taste and texture.
I adapted this recipe from a cookbook in my collection called The Modern Art of Chinese Cooking by Barbara Tropp.  The book is filled with tempting recipes, some extremely complicated with exotic ingredients.  But I was attracted to this simple one, largely because I was surprised to see fried rice with no soy sauce.  I'm glad I tried it.  I served it to my family with a Chinese pork stew that I was testing.  The stew was tasty but the rice was the star of the dinner.
Make ham and egg fried rice as a side dish for simple grilled or broiled fish, meat or chicken.  Or serve big bowls of ham and egg fried rice as a casual main course.  There's enough here for 4-6 as a side dish or 2-3 as a main.
CHINESE HAM AND EGG FRIED RICE
Simple and delicious Chinese fried rice
Recipe type:
Side dish or main course
Ingredients
3½ cups of cold cooked medium grain or short grain rice. (see important instructions below for rinsing rice before cooking)
4-5 ounces honey or maple ham, cut into ¼ inch dice (see if your grocer can cut you a ¼ inch slice)
½ cup frozen peas, defrosted
2 large eggs, beaten
Peanut oil for stir-frying (3-4 tablespoons)
1 teaspoon kosher salt
6 scallions, sliced crosswise (1 cup)
Instructions
Rice The rice works best if it's cold, so great if you can cook it the day before. If you need to make this in a hurry, spread the hot rice out on a baking tray and cool it in the fridge for an hour to cool. For optimum texture and taste, it's very important to rinse the rice in several changes of cold water before cooking. A colander full of rice, immersed in a large bowl of water, works well. Swish rice around to release excess starches. Lift colander. Pour out water. Repeat until water is mostly clear when you swish the rice. Cook rice according to package directions.
Cook eggs Heat wok, cast iron skillet or heavy frying pan over high heat until hot. Add 1½ tablespoons peanut oil and tilt pan to coat it. Pour in beaten eggs. Let them cook for a few seconds, then gently push them to one side of the pan, tilting the pan to get uncooked egg to slide onto the pan and set. Cook just until the eggs are soft-cooked. Remove them to a small dish and set aside.
Stir-fry Add 2 additional tablespoons of oil to the skillet. When hot, add the rice and stir-fry for about 3 minutes, stirring to coat and separate the grains. When the rice is hot, add the salt, ham and peas and toss with rice for about 30 second. Add the eggs back to the skillet and, using your spatula, break them apart a bit. Add scallions and toss everything for another 15 -20 second until the eggs are hot. Serve and enjoy!