Here's my favorite black bean soup! It uses dried black turtle beans which are the key to making the best black bean soup with rich dark velvety broth. A generous seasoning of cumin and chipotle chilis in adobo infuse smokiness and just the right amount of heat into this delicious healthy soup that is hearty enough to serve for dinner.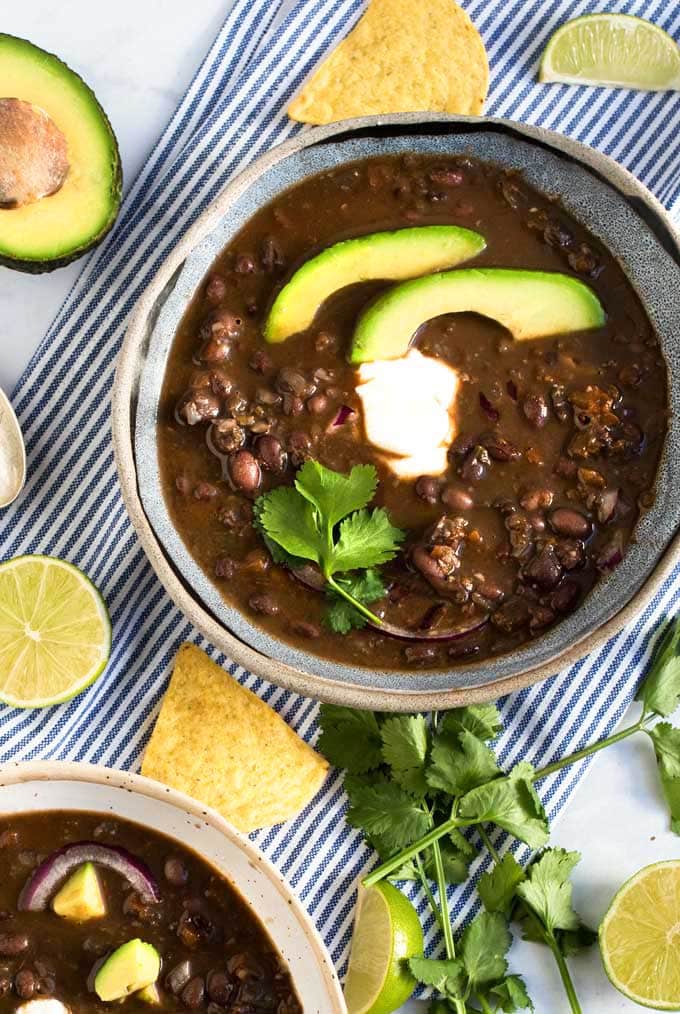 This is exactly what I crave when I want a warm, filling and healthy meal. Black beans are a great source of protein, fiber and nutrients. Their wonderful earthy flavors are so satisfying, there's no need for meat in this meal. In fact, this black bean soup is perfect for vegetarians or vegans. Good quality vegetable stock works just as well as chicken stock in this recipe.
NOTES ON COOKING BLACK BEAN SOUP FROM SCRATCH
Have you ever cooked black beans from scratch? If so, did you pre soak them overnight? Or maybe you've tried the quick boil and soak method?
Should you soak black beans before cooking them? This is a hotly debated question. Here's a hilarious article on the topic, by Kenji Lopez from Serious Eats. He does extensive testing, even goes so far as to feed soaked and un-soaked black beans to his dog to track the comparative "wind" factor. His conclusion: don't bother soaking. Others insist soaking makes beans more digestible, reduces cooking time and increases nutrient absorption.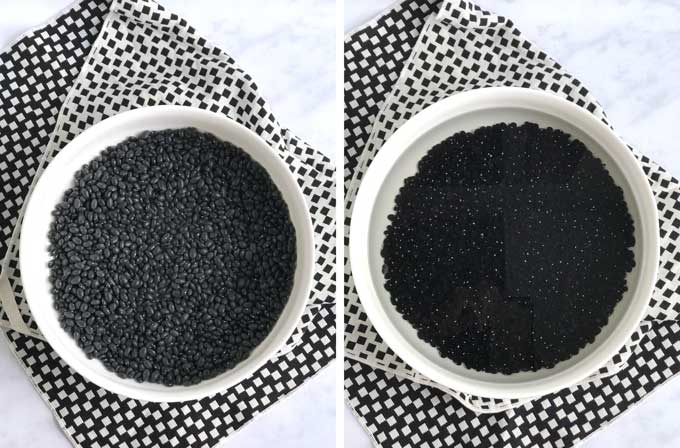 After weighing lots of pros and cons, I say: soak them. It's easy. All you have to do is put them in a bowl and pour water on top. Let them soak for at least 8 hours or overnight. Drain them and they're ready to go, guaranteed to cook quickly, to be nice and tender, and they will probably be more digestible than un-soaked beans.
HOW TO MAKE BLACK BEAN SOUP FROM SCRATCH
This recipe comes together easily but you do need to stick around to tend to the pot from time to time.
First you sauté the carrots, onions and garlic to soften them. Then you'll add sherry, chopped jalapeños, chipotle chilies in adobo sauce and cumin and let those cook and soften for a couple of minutes.
Next, add the beans, stock, oregano and bay leaves. Simmer the soup until the beans are tender, about an hour an a half.
At the end of cooking you may want to puree some of the soup for a creamier texture.
Finally, taste the soup and correct the seasoning with salt and pepper and a teaspoon or two of red wine vinegar to brighten the flavors.
Serve the soup hot, in deep bowls garnished with your favorite toppings.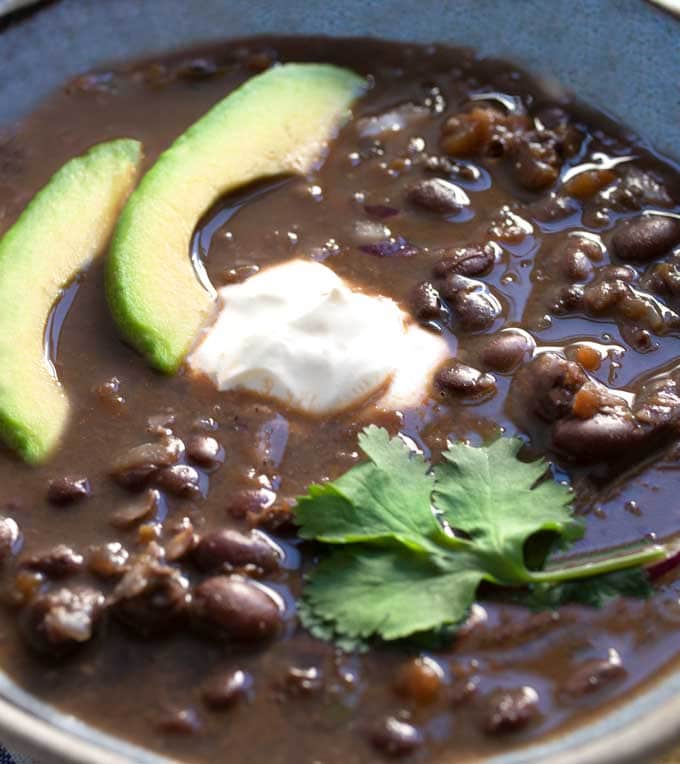 TIME SAVING TIPS
Use your food processor to chop the vegetables. It works like a dream and saves tons of time. I even used it for the garlic. Be sure to use the pulse button so you don't pulverize the veggies.
Use an immersion blender to purée the soup right in the pot.
I like to puree about one third of the soup which makes it creamier, but still soupy, with lots of whole beans throughout.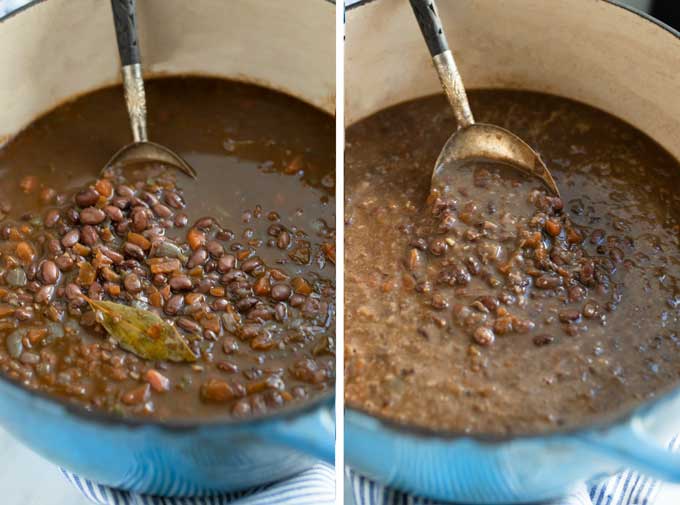 Black beans are a staple food of many Latin American cultures and are enjoyed around the world for breakfast, lunch and dinner. When recipes call for black beans they are usually referring to black turtle beans. These little beans have a rich meaty texture, making them ideal for soup and stews, such as classic meaty Brazilian feijoada and this spicy black bean soup.
A note about garnishes. Even the best soup is elevated by well chosen toppings. Garnishes can be much more than decorations. A bowl of this black bean soup is delicious on its own but add a squeeze of fresh lime juice, some cubed avocado, a sprinkling of chopped red onion and a dollop of yogurt or sour cream, for added deliciousness....and visual excitement.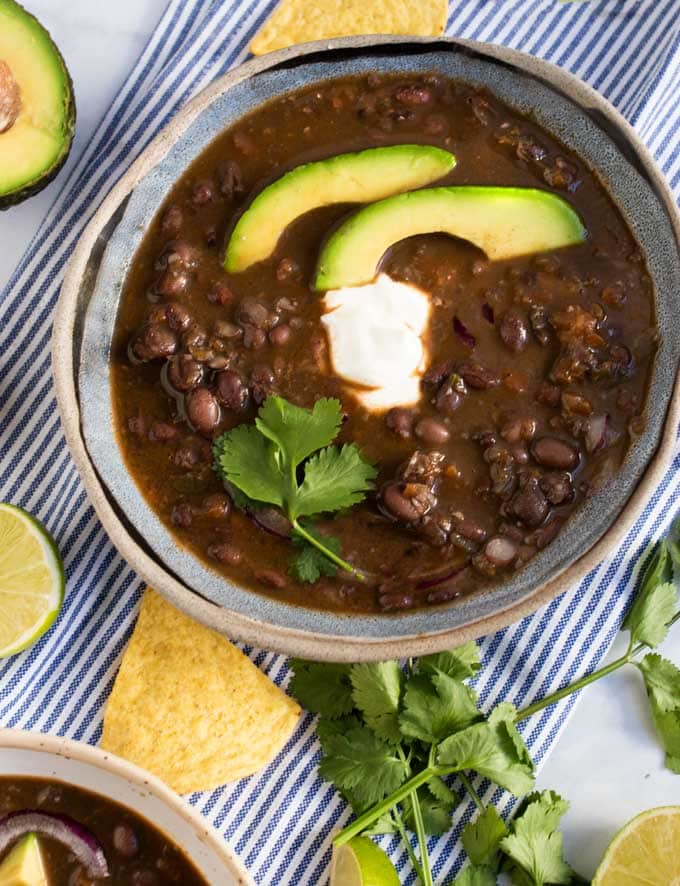 Be sure to follow Panning The Globe on Facebook, Pinterest and Instagram for daily cooking inspiration.
Here's the recipe for Spicy Black Bean Soup From Scratch. If you try this recipe I hope you'll come back to leave a star rating and a comment. I'd love to know what you think.
Print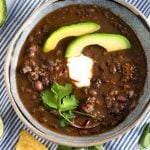 Spicy Black Bean Soup from Scratch
---
Author:

Lisa

Total Time:

2 hours 30 minutes

Yield:

6

-8

1

x
Description
Spicy black bean soup with rich velvety broth. A delicious healthy soup that is hearty enough to serve for dinner. Easily vegetarian or vegan.
---
1

pound of dry black beans (Turtle beans), pre-soaked.*

2 tablespoons

olive oil

2 cups

chopped carrots (

3

-

4

carrots, about 9 ounces)

2 cups

chopped yellow onions (

2

medium onions)

3 tablespoons

minced garlic (from

8

large cloves)

½ cup

dry sherry**

2

jalapeño peppers, seeds and ribs removed, finely chopped

1 tablespoon

of finely chopped chipotle chilies plus 1 teaspoon of adobo sauce, from a small (7-ounce) can of chipotle chilis in adobo sauce.***

1 tablespoon

ground cumin

8 cups

of good quality low salt chicken broth or vegetable broth

1 tablespoon

dried oregano

2

bay leaves

1 tablespoon

kosher salt, divided****
Freshly ground black pepper, to taste

1

-

2

teaspoons red wine vinegar to adjust seasoning
Optional Garnishes: 
Chopped red onion
Cubed avocado
Sour cream or yogurt
Chopped cilantro
Lime wedges
---
Instructions
In a large heavy pot, heat oil over medium heat. Sauté carrots, onions and garlic, stirring occasionally, for 10-12 minutes, until soft and fairly dry. Don't brown. Add sherry and cook until it is fully absorbed, a minute or two. Add jalapeños, chipotle chilies, adobo sauce and cumin. Cook, stirring, for a minute or so.
Add beans, stock, oregano and bay leaves. Bring to a boil. Lower to a simmer and cook uncovered for 1 ½ - 2 hours, until the beans are tender. If the broth gets too thick, add a little water from time to time. After one hour of cooking, add 1 teaspoon of salt.
Finish the soup: Depending on how thin the broth is, you may choose to purée or mash some of the soup to create a thicker, creamier broth. I like to purée about ⅓ of the soup, right in the pot, using an immersion blender. A potato masher also works well.
Taste and correct seasoning with salt and pepper. Add a teaspoon or two of red wine vinegar to brighten the flavors. For more heat, stir in more adobo sauce.
Serve soup hot in deep bowls garnished with your favorite toppings.
Notes
*HOW TO SOAK BLACK BEANS: Sort through the beans and pick out any small stones or debris. Place beans in a colander and rinse them thoroughly under cold running water to clean them. Put them in a big bowl and cover with cold water by two inches. Leave them in a cool place or in your fridge, to soak for at least 8 hours or overnight. Drain and rinse them and they are now ready to cook.
**DRY SHERRY SUBSTITUTES. If you can't find dry Sherry use a dry red wine such as Cabernet, merlot, pinot noir or Zinfandel
***CHIPOTLE CHILI IN ADOBO SAUCE is a secret weapon for adding deep earthy flavor and spice to a soup, stew, sauce, dip or even slaw. Made from dried smoked jalapeño peppers that are rehydrated and marinated in purée of tomato, vinegar, garlic and spices, both the chilies. Be aware that the seeds are extremely hot. If you are at all sensitive to heat, I suggest you scrape the seeds out before adding chilies to the soup.
***SALT: As with any long-simmering soup or stew, it's best to salt cautiously and mostly at the end because store-bought stock is generally salty and will only get saltier as the soup simmers and water evaporates.
This recipe was adapted from Julia Moskin's The Best Black Bean Soup Recipe in the New York Times.
Prep Time:

30 min (plus overnight soaking)

Cook Time:

2 hours

Category:

soup

Method:

stovetop

Cuisine:

Mexican
Keywords: black bean soup, black bean soup from scratch