Chicken schnitzel has always been a favorite in my family. When my kids were younger, schnitzel was a giant chicken nugget, to be grabbed in hand and dunked in lots of ketchup. Back then I don't think any of us realized the wide global reach and popularity of schnitzel.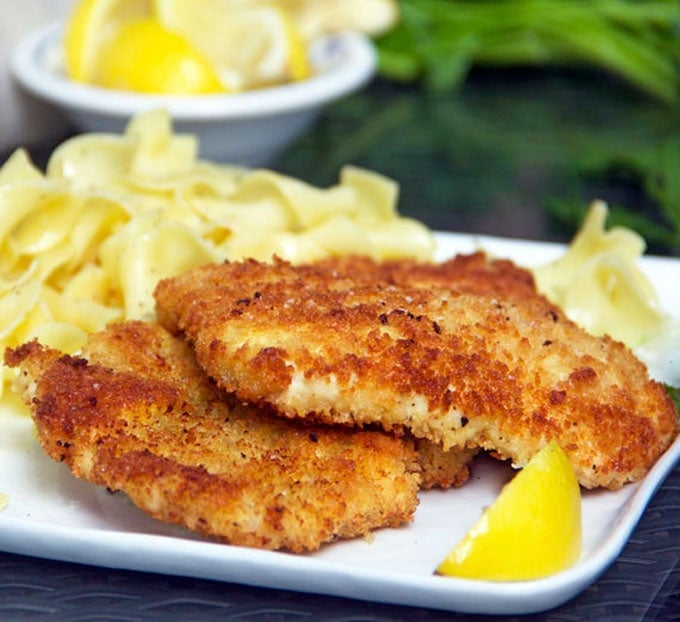 The world Loves Schnitzel
Not every country calls it "schnitzel," but they all use a similar recipe: boneless, skinless, beef, chicken, pork, turkey or veal is tenderized by pounding it into a thin cutlet. It's then breaded and baked, sautéed or deep fried. It's crisp on the outside and tender within - totally irresistible any way you serve it!
In Italy they it "Chicken Milanese." A big, thin crispy sheet of chicken schnitzel that practically covers the plate is topped with an arugula and cherry tomato salad with lemony dressing.
The Japanese version is "Katzu." After the chicken is fried to golden-brown perfection, it's sliced into strips and served with a big scoop of steamed rice and a green vegetable.
Chicken schnitzel in Israel has a good amount of sesame seeds in the breading and is sometimes offered as a filling for shawarma.
Wiener Schnitzel is the famed Viennese version, made from veal.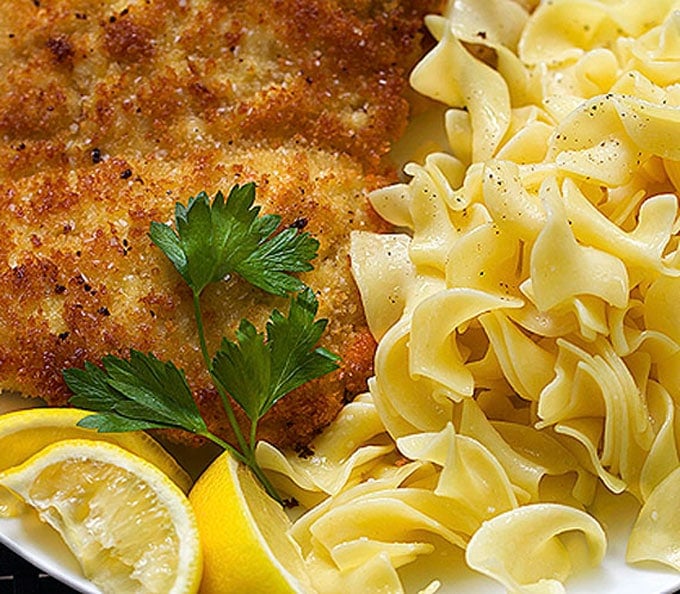 For the ultimate comfort food fix, serve your chicken schnitzel straight up with buttered noodles - just like in the famous song "My Favorite Things" from "The Sound of Music."
"Cream colored ponies and crisp apple strudels
Doorbells and sleigh bells and schnitzel with noodles
Wild Geese that fly with the moon on their wings
These are a few of my favorite things!"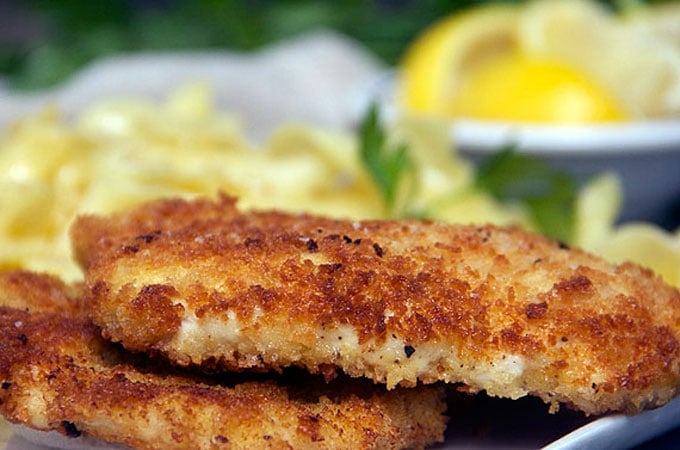 HOW TO MAKE CHICKEN SCHNITZEL FROM SCRATCH
The first step of making good schnitzel is to pound the chicken until it's nice and thin. I don't have a mallet, but my rolling pin works really well. Putting the chicken into a large baggy for pounding, is a great way to keep chicken juices from spraying around your kitchen. Tip: don't zip the baggy or it might pop.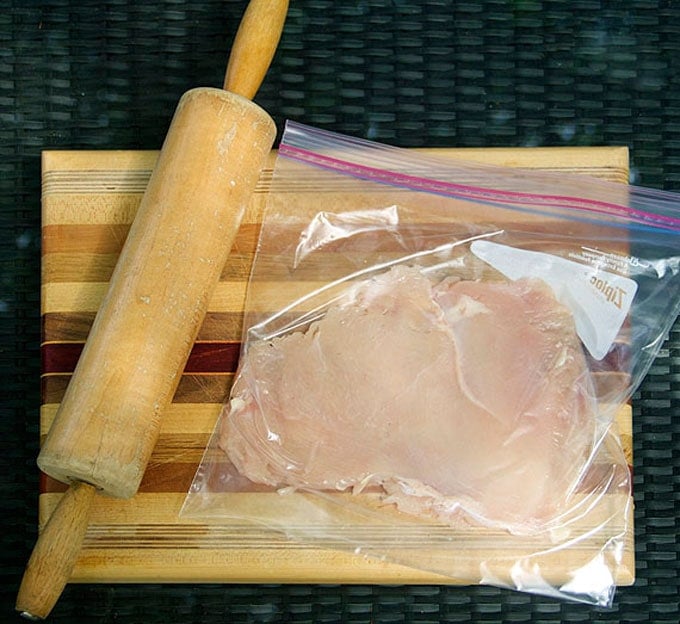 After the chicken cutlets are pounded to ⅓ - ¼ inch thickness, set up a dredging station with a plate of flour, a bowl of beaten eggs, and a plate of bread crumbs.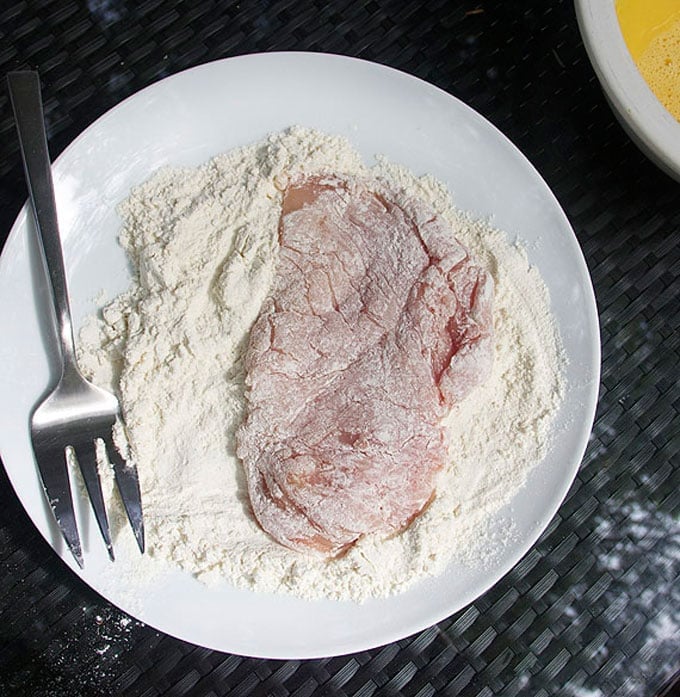 Coat each chicken cutlet lightly with flour.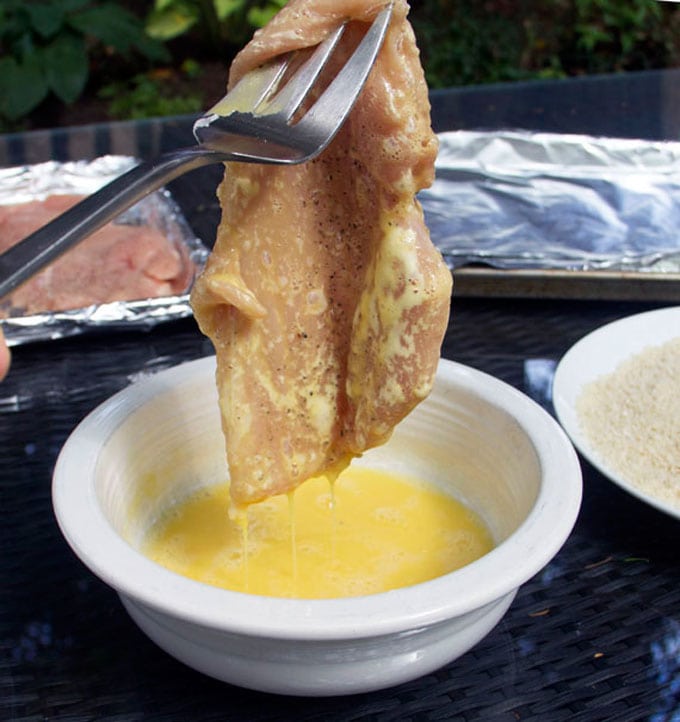 Dunk into beaten eggs.
Then coat with crumbs. Your chicken schnitzel is now ready to cook.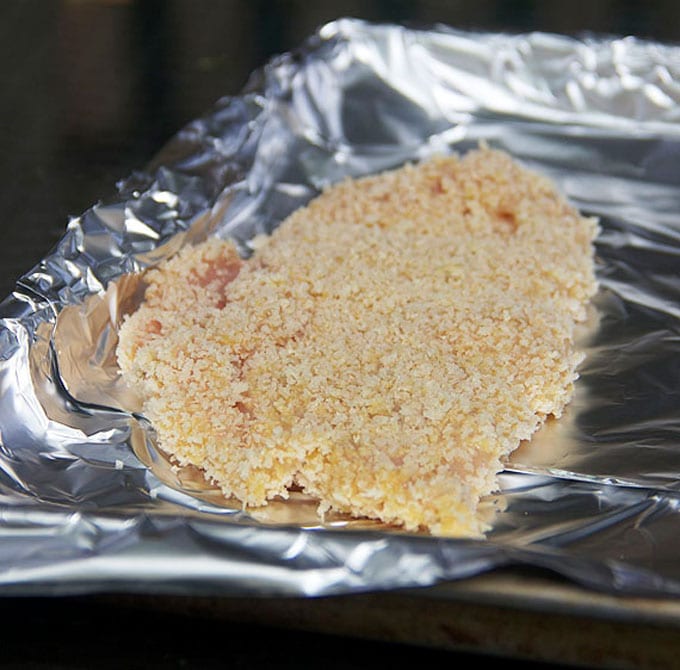 You can bread all of your schnitzel ahead of time and keep it covered in the fridge for a few hours until you're ready to cook it.
Schnitzel is best served right after it's browned.
If you have leftovers, be sure to make a delicious "schnitzelwich" - schnitzel on a roll with lettuce and mayo or Russian dressing.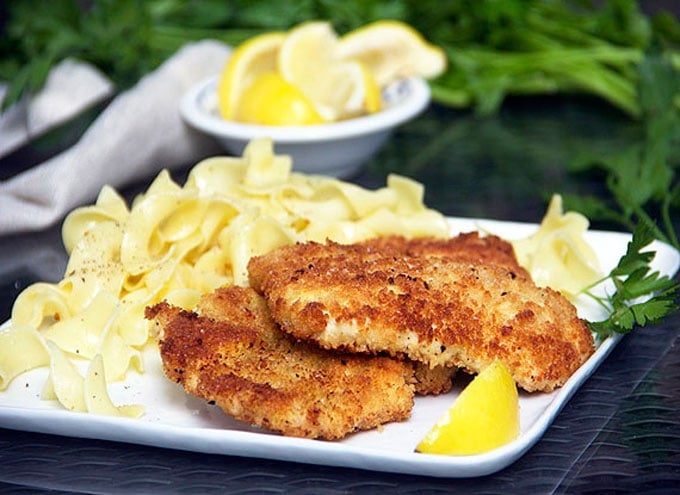 Cool mornings have started to mingle with the hot August afternoons here in New England. I can feel myself waffling between hanging on to the lazy days of summer and gearing up for a busy Fall. I've already started nagging my kids about getting ready for school. Soon our family will be in full swing of the new season - each of us diving head first into our various endeavors. Coming together around the family table for a good comforting dinner will feel better than ever!
Here's the chicken schnitzel recipe. If you try this recipe I hope you'll come back to leave a star rating and comment. I'd love to know what you think!
Print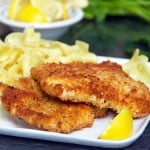 Chicken Schnitzel Recipe
---
Author:

Lisa

Total Time:

1 hour 20 mins

Yield:

6

-8

1

x
Description
Thin scallops of chicken, breaded and sautéed until golden brown on the outside, tender inside. Serve with buttered noodles and salad.
---
6

boneless, skinless chicken breast halves (about

2 ½

pounds)

1 teaspoon

kosher salt
freshly ground black pepper

¾ cup

all-purpose flour

3

large eggs

2

-

3

cups panko bread crumbs
Vegetable oil, for frying
Optional Garnish

1

lemon, cut into

eight

s
Fresh grated parmesan cheese
---
Instructions
Pound the Chicken Place a chicken breast half inside a large plastic ziplock bag. Lay it on a flat surface. Pound evenly with a meat mallet or rolling pin until you have an evenly thin scallop, ⅓ to ¼ inch thick. Transfer scallop to a plate and repeat with remaining chicken breasts.
Bread the Chicken Cover a large baking tray with foil or wax paper. Pour the flour onto a large plate. Crack the eggs into a large wide bowl and whisk. Pour the breadcrumbs onto a large plate. Season the chicken with salt and several grinds of fresh flack pepper. Lay a piece of chicken onto the flour plate. Turn it over to coat. Shake off excess flour. Then dunk the chicken into the eggs to coat. Let the excess drip off. Then press the piece of chicken into the crumbs. Turn to coat the other side. Lay the breaded chicken on the prepared tray. Repeat with remaining chicken.
Cook Chicken In a large cast iron or non-stick skillet, heat 4 tablespoons oil over medium-high heat. (for speedier cooking, work with two skillets simultaneously). Add 1-2 pieces of breaded chicken to the skillet (or however many fit in a single layer.) Brown each piece for 2-3 minutes per side, until golden brown and cooked through. Transfer to a paper-towel-lined plate. Repeat with remaining chicken, adding more oil when needed. You need a good layer of oil over the bottom of your skillet to get a crisp crust.
Serve with noodles or topped with arugula salad. Sprinkle with lemon juice and freshly grated parmesan cheese, if you like. Enjoy!
Prep Time:

1 hour

Cook Time:

20 mins

Category:

Main Course

Method:

Sauté

Cuisine:

Global