Caramelized Black-Pepper Fish is a delicious Vietnamese dish that's easy to cook at home. The main flavor components are caramelized sugar, shallots and lots of black pepper. The recipe is easy enough for a weeknight (30 minutes) and delicious enough for a special occasion.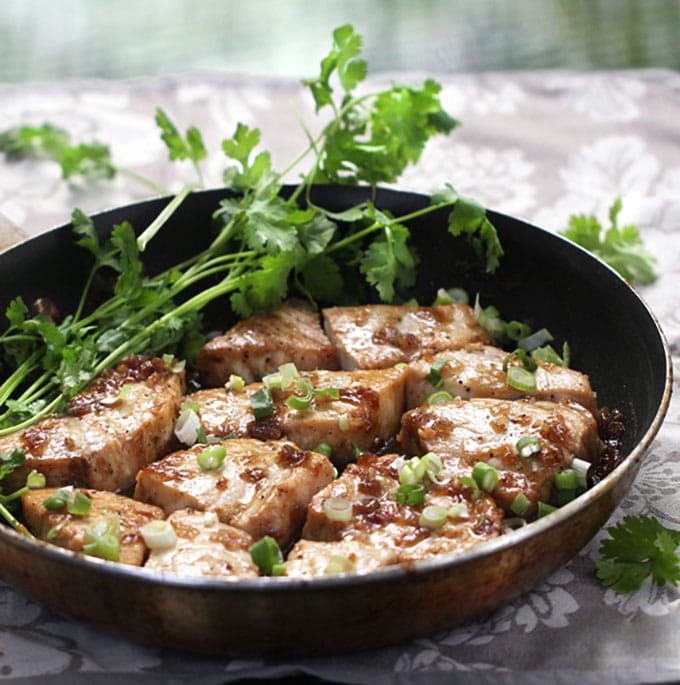 There is tension and excitement in the air. Endings and beginnings are all colliding and I think that's why I frequently have butterflies in my stomach these days. My middle son just graduated from high school.  He's about to start his summer job and then is off to college in New Orleans. My oldest son just started an internship in LA. My husband started a new job last week. My youngest son is studying for finals and leaves for sleep away camp in a week. There's a bag of "Goldfinger" labels waiting to be ironed onto every item my son will be taking to camp; there are forms to be filled out and there are flights to be arranged, but for the past few days I've given myself a reprieve to experiment with caramelized black-pepper fish from Vietnam.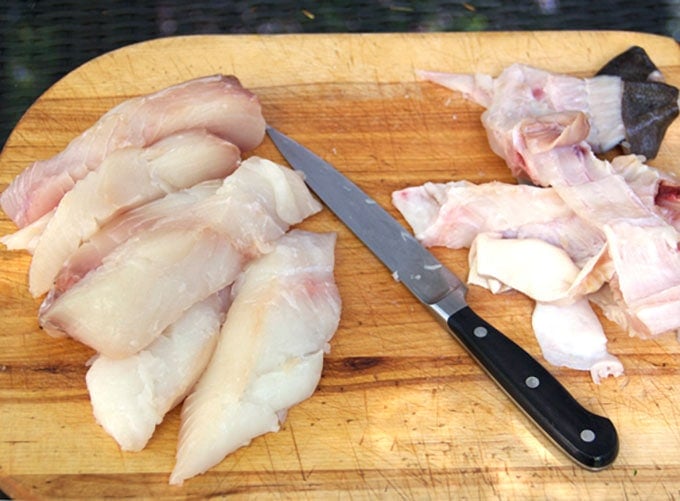 I tried the recipe with two kinds of fish: Halibut and Swordfish. Both were equally delicious in their own special way.  If you like your fish tender and falling apart, go with the halibut. The swordfish is just as tender and holds its shape really well.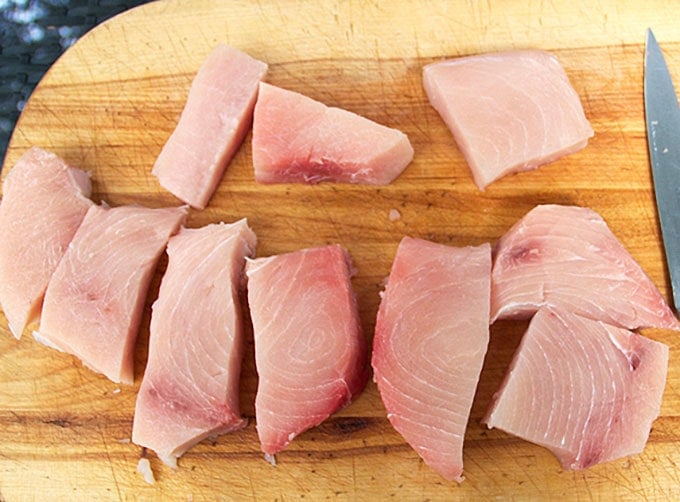 There aren't a lot of ingredients in this - the flavor comes from caramelized sugar, savory fish sauce, sautéed shallots, and lots of black pepper.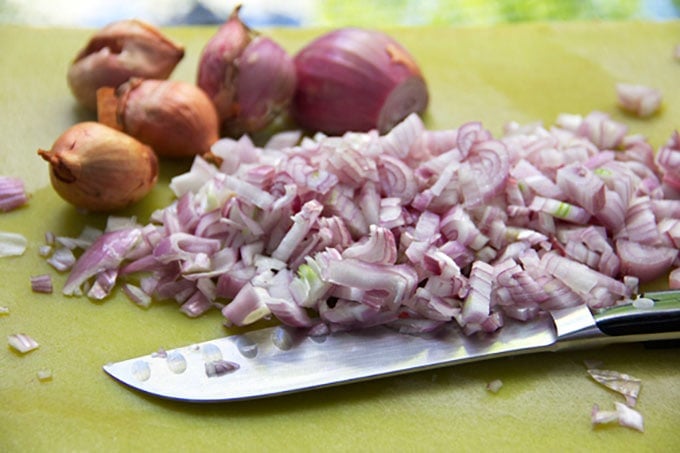 If you've ever made caramel sauce you know that it's about almost burning sugar. What results is something deeper and richer. In Vietnamese cooking caramel sauce, or nouc mao, is commonly used to simmer savory foods such as meat, chicken and fish.
In this recipe, the sugar is cooked with fish sauce - a staple in Vietnamese cuisine.  Surprisingly, fish sauce isn't fishy tasting. The fermentation process that's used to make the fish sauce, or nam pla, gives it a deep complex umami mix of sweet, salty, sour, and even a bit nutty.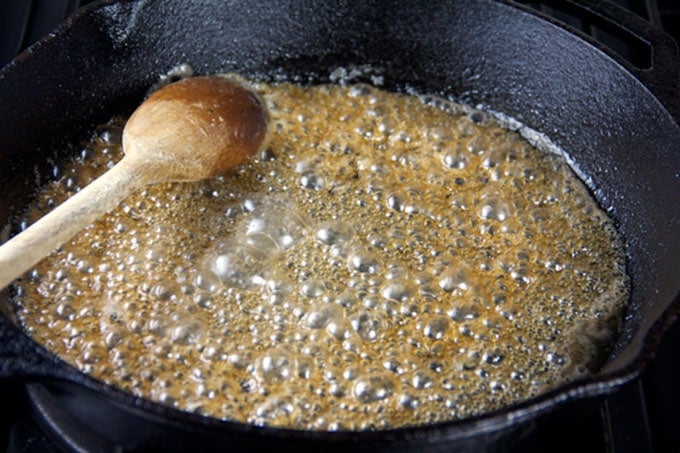 Once the sugar starts to caramelize, the fish is added, along with lots of black pepper and shallots.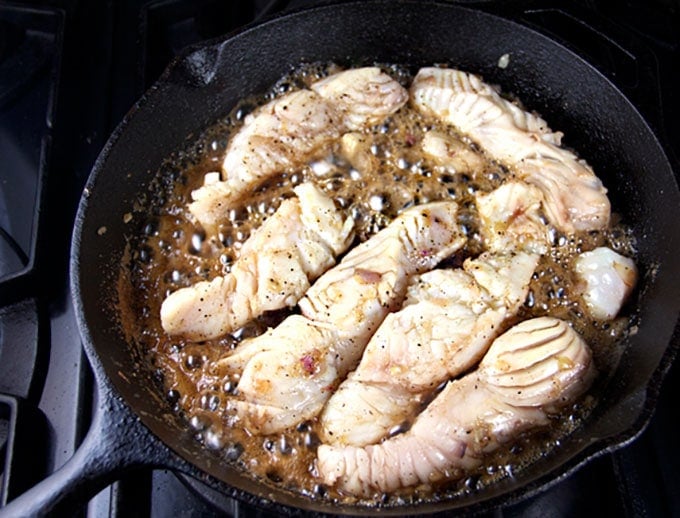 The intense flavors in this dish call out for simple sides, such as steamed white rice and a green vegetable.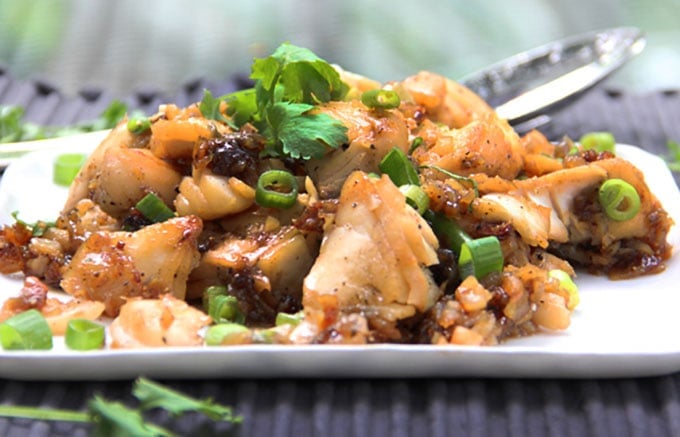 I love the intense mix of caramel and black pepper that dominates this dish, combined with the saltiness of the fish sauce and the shallots.  I'm off to iron labels now.  Happy cooking.
Here's the recipe for Caramelized Black Pepper Fish. If you try this recipe I hope you'll come back to leave a comment. I'd love to know what you think!
Print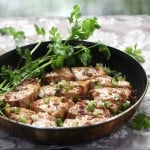 CARAMELIZED BLACK-PEPPER FISH FROM VIETNAM
---
Description
Tender fish cooked in a peppery caramel sauce.
---
¾ cup

chopped shallots

1 tablespoon

olive oil

¼ cup

sugar

¼ cup

Asian fish sauce, also called nam pla

¼ cup

water

1 ½ teaspoons

fresh ground black pepper

2

pounds halibut fillet, or substitute mackerel or swordfish, skin removed, cut into

6

-

8

pieces
Garnish

4

scallions, thinly sliced

½

bunch cilantro, chopped
---
Instructions
Heat oil (in a skillet large enough to hold the fish) over medium heat. Add the shallots and cook for 10 minutes, stirring occasionally, until they soften (lower the heat if they start to brown) Transfer them to a small bowl and set aside.
Add sugar, fish sauce, and water to the skillet. Over medium heat, cook the mixture for about 5 minutes, until it starts to turn brown and there are large bubbles throughout. Sprinkle in the pepper and the cooked shallots and cook for a minute more. Add the fish and cook, turning gently with a spatula every three minutes or so, until it is coated evenly with thickened caramel sauce, and just cooked through, 8-10 minutes. (you can add a few tablespoons of water, 1 tablespoon at a time, if the pan seems too dry)
Sprinkle with scallions and cilantro. Serve with steamed rice and a simple green vegetable.
Prep Time:

5 mins

Cook Time:

25 mins

Category:

Main Course

Cuisine:

Vietnamese