This Lime Apricot Chicken Wings recipe is super easy to prepare and the wings emerge from the oven sticky, tangy, sweet and spicy.
Lime Apricot Chicken Wings are beyond delicious!  Lime juice, apricot preserves, garlic and soy sauce meld and caramelize with wings as they cook. They emerge from the oven sweet, tangy and delicious.  Add a generous sprinkle of chopped scallion for absolute perfection!  Credit goes to
Gourme
t, where this recipe originated and
Epicurious
, from where I discovered and adapted it.  I consider it to be one of my recipe treasures!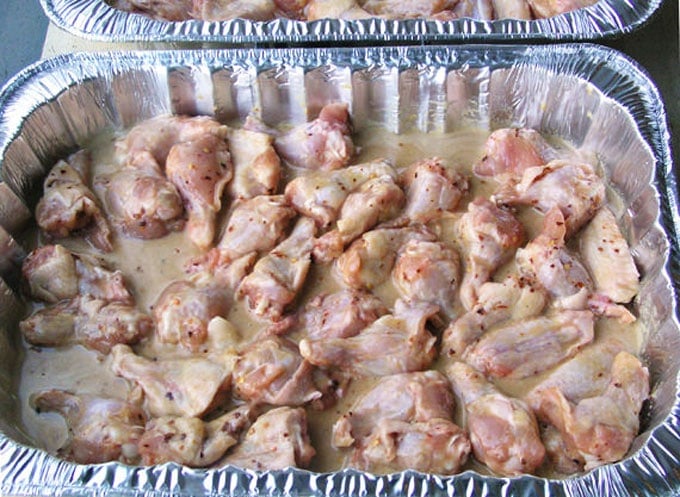 According to
The National Chicken Council, 
 Super Bowl weekend is by far the biggest time of the year for wings.  It is projected that Americans will eat 1.23 billions chicken wings Super Bowl XLVII weekend.  If you are among the millions planning to make some wings for the big game, give these a try.  They are extremely easy to prepare and a big crowd pleaser - and they go great with football and beer!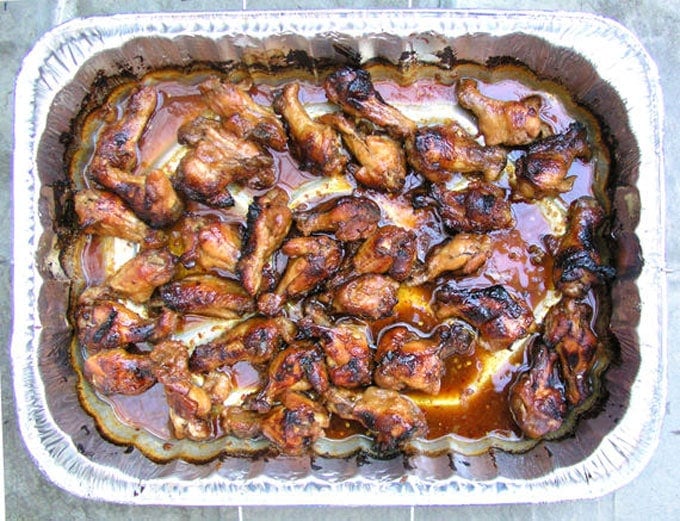 LIME APRICOT CHICKEN WINGS
Soy sauce, lime juice, apricot preserves and garlic flavor these sticky delicious chicken wings.
Author:
Panning The Globe, adapted from Epicurious
Ingredients
8 pounds chicken wings (disjointed, wing tips cut off and set aside for another use)
2 large rectangular pans (preferably disposable foil 12 by 16 inches)
Sauce
1 cup soy sauce
1 cup apricot preserves
1 cup fresh lime juice
⅔ cup sugar
6 large garlic cloves
3 teaspoons crushed red pepper flakes
Garnish
1 bunch scallions, sliced, to sprinkle on top
Instructions
Preheat the oven to 425ºF. Divide the chicken wings between the two pans. Put all of the sauce ingredients, except the red pepper flakes, into a blender and puree. Divide the sauce, pouring half into each pan. Toss the chicken wings to coat with sauce. Sprinkle red pepper flakes evenly over chicken, 1½ teaspoons per pan. Toss to combine.
Cook the chicken in the upper and lower shelves of the oven for 50 minutes. Switch the position of the pans and flip wings over, so they brown on the other side. Cook for another 35-45 minutes - checking often to prevent burning - until the wings are dark and the sauce is thick. Remove trays from oven. Mound on a platter and sprinkle with scallions. Sliced cucumbers would be a good accompaniment. Enjoy!