Caponata: Sicilian Sweet and Sour Eggplant Relish
Yesterday my day started out badly. I turned on my computer and got a white screen with a lightening bolt. I was panicked. I did a quick Google search and it didn't look good – some implication that either I had been hacked or my operating system was corrupted. By the time I walked into the Apple Store for my genius bar appointment at 11am, there was a big dark cloud hanging over me – I was sure I had lost all my data and would need to buy a new computer…  As I was describing my whole sob story to the genius, he reached down and pulled a bell pepper seed out of my keyboard. It had wedged the "T" key in, which made the computer think it was the back-up drive for another computer….that was it! Problem fixed. Food blogging can be a risky business!
Caponata is a Sicilian sweet and sour eggplant relish that's often served on bruschetta or as part of an antipasto.  I've always wanted to learn to make caponata at home. This past week I did a lot of experimenting and I'm really happy with the results!
There are no shortcuts in this recipe if you want to end up with a fantastic caponata. First the cubed eggplant must be salted and rinsed so its bitter juices are released and so it browns up nicely when you saute it. Then, there's the the chopping and slicing of the other vegetables, which you can do while you wait for the salted eggplant to be ready for cooking. There's also a fair bit of standing over the stove, stirring. As I stood over the skillet, I kept saying "wow" to myself as I watched the vegetables caramelize and I inhaled the intoxicating aromas that were floating up and around me.
In learning how to make caponata I also learned that Sicily is home to Mount Etna, one of the world's largest and most active volcanoes. The almost constant volcanic activity from Mount Etna is one of the reasons the island has such rich, fertile soil and such a thriving agricultural economy.
Sicily is an island in the central Mediterranean just off the toe of Italy's boot.  Due to it's strategic location, it's been a melting pot of the different ethnic groups that have landed on its shores: Greeks, Romans, Arabs, French, Germans, Spanish, Italians and British. And of course all these diverse cultures bring their culinary influences along with them.  In Sicilian caponata we can credit the Arabs for the raisins and sugar, the Spanish for the tomatoes and peppers, and the Greeks for the olives.
As I'm looking down into my bowl of caponata, it actually looks like a metaphor for Sicily's cultural history, with all of its rich and complex flavors and bold colors and textures.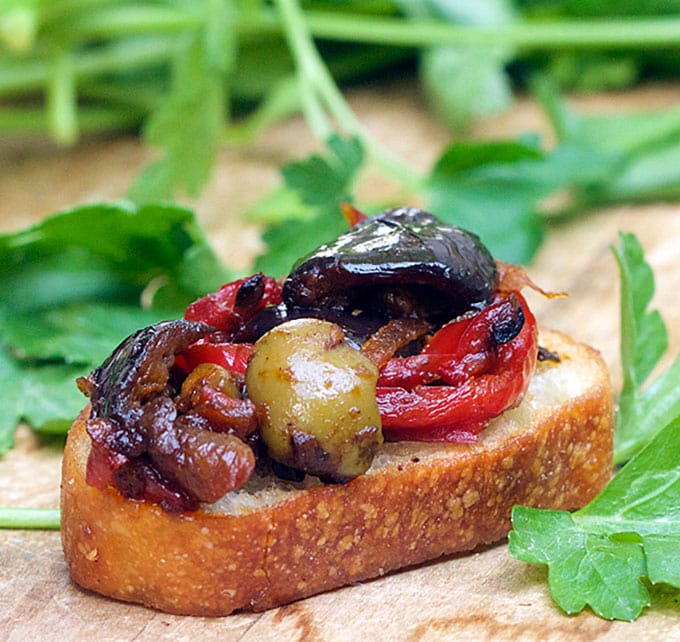 Last night, after a long day that didn't start out great I brought a bowl of caponata with crostini to my friend Carolyn's house and hung out on her porch with a bunch of friends.  The day ended really well. I love the feeling of working hard in the kitchen and creating something of beauty.  I love fixable problems.  And I love my friends.

CAPONATA: ITALIAN EGGPLANT RELISH
Sweet & sour eggplant dip - great as an appetizer atop bruschetta or on grilled fish or on pasta.
Author:
Panning The Globe
Ingredients
2 pounds of eggplant (4 small Italian eggplants or 2 medium globe eggplants) washed and cut into ¾-inch cubes (skin on)
2 tablespoons kosher salt
¾ cup good quality olive oil, divided
1 large red onion, halved and thinly sliced
4-5 tender inner stalks of celery, roughly chopped (about 1 cup chopped)
3 large garlic cloves, minced
2 red bell peppers seeds and ribs removed, cut lengthwise into thin strips
3 tablespoons tomato paste
4 ounces pitted green olives, coarsely chopped (about a cup chopped)
⅓ cup yellow raisins
¼ cup capers, drained
6 tablespoons red wine vinegar
3 tablespoons granulated sugar
Kosher salt, to taste
Instructions
Salt & Rinse Eggplant: Line a jellyroll pan with paper towels. Spread out eggplant cubes and sprinkle with 2 tablespoons salt. Cover with paper towels. Pace another baking tray on top and add a weight, such as heavy skillet. Let that all stand for ½ hour to an hour. (you can cut up the other veggies while you wait) Rinse the eggplant in a mesh colander. Line the same jellyroll pan with more paper towels. Transfer the rinsed eggplant to the tray and pat it dry with another layer of paper towels.
Saute the Eggplant: Heat ¼ cup oil in a large skillet (cast iron is best) over medium heat until hot but not smoking. Add half the eggplant in a single layer. Leave it undisturbed for two minutes so it browns a bit. Continue to cook, stirring often, for another 5 minutes, until eggplant is brown in spots and starting to soften. Transfer to a paper-towel-lined mesh colander. Add another ¼ cup olive oil to the skillet and repeat with the rest of the eggplant.
Add another ¼ cup olive oil to the skillet. Add the onions, garlic and celery. Cook, stirring occasionally, for 5 minutes, until the onions are softened. Add the bell peppers and cook for 5 minutes, stirring occasionally, until the peppers are softened. Add the tomato paste, olives, raisins capers, and 3 tablespoons water. Cook, stirring frequently, for 8 minutes. Add the eggplant to the skillet. Whisk the sugar and vinegar together in a small bowl and pour into the skillet. Lower the heat to medium-low and simmer the mixture for 15 minutes, stirring occasionally. Season with salt, to taste. Serve warm or at room temperature. Caponata will keep for a week covered in the fridge and is best served at room temp after a day of letting the flavors meld.