This roasted eggplant dip recipe is one of my favorite summer appetizers, and it's so simple to make. Just bake the eggplant, chop it up, and mix it with sliced tomato and red onion plus some oil, vinegar, garlic, salt and pepper. Serve it with toasted pita points, tortilla chips or crackers.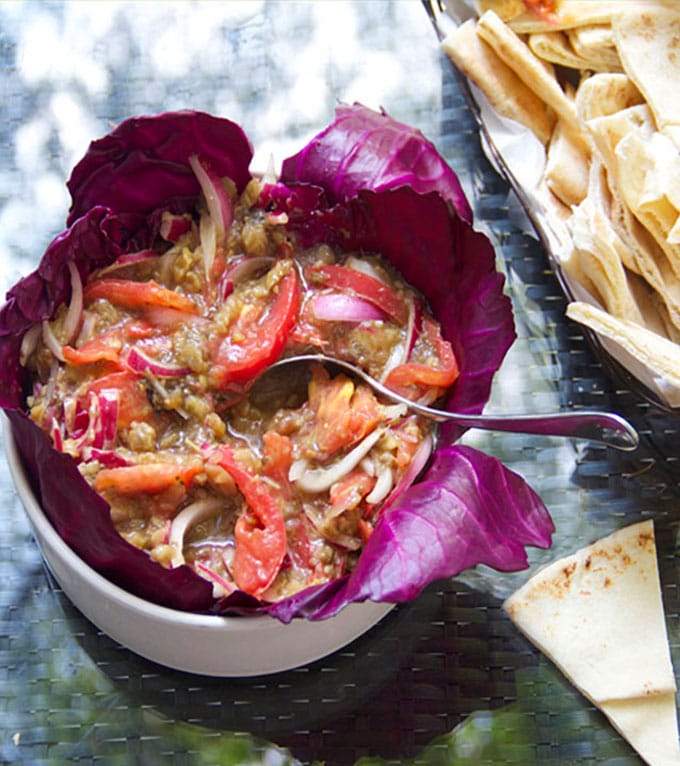 I usually think of August as a lazy quiet time, but not so this year.  My house has been bustling with activity. My youngest son just returned from summer camp. My oldest stopped home for a week between a summer in LA and a road trip back to college.  My middle son Brian leaves for college in two days. It's been a whirlwind of laundry and emotions and, of course, cooking.  But now there's a bit of a lull. I'm happy to be able to sit down at my computer and share a recipe that's fresh and delicious, and showcases ripe summer tomatoes: a rustic roasted eggplant appetizer.
You might have had a similar appetizer called "eggplant caviar."  This is a rustic version – similar ingredients but not pureed.  I love rustic food – I think of it as being simple, fresh, healthy, homey and delicious.  I looked it up to find the true meaning of rustic and here's my favorite definition:  "Having a simplicity and charm that is considered typical of the countryside."  That pretty much says it all.   In this eggplant appetizer, you can see and taste and appreciate each of the simple, fresh vegetables – roasted eggplant, ripe tomatoes, and sliced red onion.  The dressing is just oil, vinegar, garlic, salt and pepper.  Everything is separate and basic but the harmony of flavors is perfect.
The eggplant is pierced all over with a fork and roasted for 45 minutes in a 400 degree oven. Once it comes out of the oven and cools a bit, you can cut off the end, slice it in half, and easily peel off the skin.
The flesh is then chopped and mixed with all the other ingredients.
I like to serve it scooped onto pita triangles.
I hope the rest of your summer is great, whether it's quiet or bustling with activity.
Here's the recipe for Roasted Eggplant Dip. If you make this, please come back to leave a comment and a rating. I'd love to know how you like it!

Roasted Eggplant Dip
Delicious, fresh, eggplant dip. Serve with pita, crackers or tortilla chips
Author:
Panning The Globe
Cuisine:
Out of this World
Ingredients
Dressing
¼ cup olive oil
2 tablespoons red wine vinegar
1 teaspoon minced garlic
½ teaspoon kosher salt
¼ teaspoon fresh ground pepper
Vegetables
1 medium sized eggplant (1 pound)
1 ripe tomato, cored, halved, and sliced thin
½ small red onion, sliced thin
To Serve
Pita bread, cut into triangles.
Instructions
Dressing Whisk oil, vinegar, garlic, salt and pepper until emulsified. Set aside.
Roast the Eggplant Preheat oven to 400ºF. Pierce the eggplant several times with a fork. place it on a jellyroll pan and bake it for 45 minutes in the center of the oven until it is cooked through and the skin is wrinkly. Transfer the eggplant to a work surface and cool for 10 minutes. Slice eggplant in half lengthwise and peel off the skin. Chop the flesh roughly and transfer to a bowl. Add the tomato, onion, and dressing. Toss gently to combine.
Serve with pita triangles or tortilla chips.