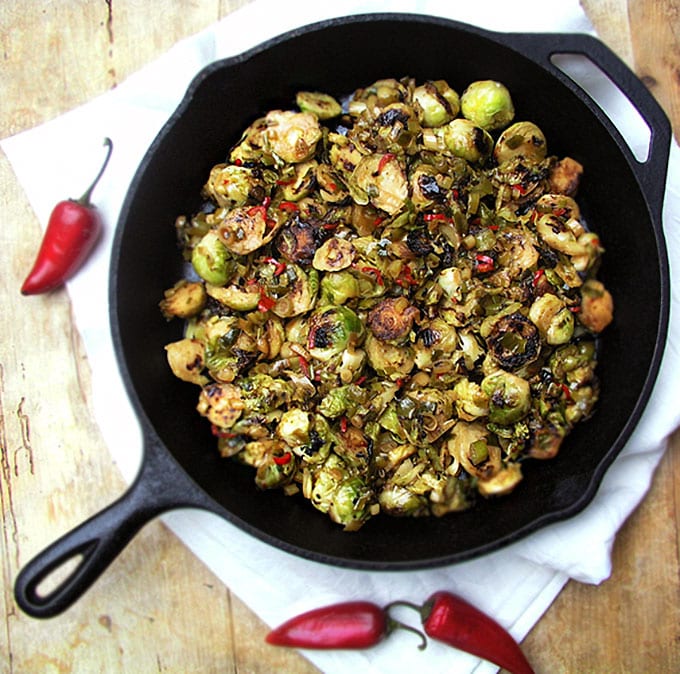 I felt I had discovered a hidden treasure when, about a year ago, I stumbled on Yotam Ottolenghi's first cookbook "Ottolenghi: The Cookbook" on a shelf in my local bookstore. The textures and colors of his creations were simply gorgeous. The recipes were new and exciting with spices from far away lands and platters heaped with grains and roasted vegetables.  Salads and grains were layered with fruits, cheeses, lettuce leaves and fresh herbs.  Dishes were flecked with pomegranate seeds and sprinkled with sumac and zaatar.  I couldn't wait to start cooking.  He is my kind of food hero – someone who can take the healthiest vegetables and grains and make them into something irresistible. 
Ottolenghi is far from a hidden treasure these days.  He now has three beautiful cookbooks, a couple of highly acclaimed London restaurants, and three gourmet delis. Just this week The New Yorker magazine featured a wonderful article about him in their special Food Issue.  In it, I was not surprised to learn that the roots of his brilliance extend far beyond culinary school.  He was a highly accomplished academic and journalist in his home city of Jerusalem, before turning his sights to food and moving to London to study cooking at the Cordon Bleu.
Yotam Ottolenghi's third cookbook was released in October: "Jerusalem: A Cookbook".  It is yet another treasure.  He transports the reader to the sacred city of Jerusalem with interesting stories and a stunning new collection of Middle Eastern inspired recipes.  I hope you enjoy this delicious recipe for brussels sprouts, adapted from Yotam Ottolenghi's second cookbook: "Plenty"
Brussel Sprouts from the UK
Crisp browned brussels sprouts with scallions and chilies in a maple soy chili sauce.
Author:
by Lisa Adapted from "Plenty" by Yotam Ottolenghi
Ingredients
Sauce
4 tablespoons sweet chili sauce
3 tablespoons soy sauce
4 tablespoons toasted sesame oil
2 teaspoons rice vinegar
2 tablespoons maple syrup
Brussels
Olive oil for sautéing (about 10 tablespoons)
2 pounds brussels sprouts, ends trimmed off and outer discolored leaves removed
2 cups sliced scallions (2 bunches)
2 small red chili peppers, seeds removed, sliced lengthwise into quarters and then sliced thin crosswise (I like Fresno peppers or red jalapeños)
Salt to taste
Instructions
Make the sauce In a medium bowl whisk chili sauce, soy sauce, sesame oil, vinegar, and maple syrup until combined. Set aside.
Prepare Brussels Stand each brussels sprout on its base and cut from top to bottom, slicing it into thirds. Put sliced brussels in a large bowl near the stovetop.
Heat 3 tablespoons olive oil in a large skillet over medium heat (cast iron or non-stick) When oil is very hot toss in one third of the brussels sprouts or just enough to cover the bottom of the pan in one layer. Leave them undisturbed to brown for about two minutes. Flip with a spatula and brown for another two minutes on the other side. Transfer browned brussels to a clean bowl. Cook the rest of the brussels sprouts in batches the same way. Set aside.
Add 1 tablespoon of oil to the same skillet. Add the chopped scallions and chilies and sauté for 1-2 minutes until they start to soften.
Add the brussels back into the skillet with the scallions and chilies. Pour the sauce over and cook, tossing for 2-3 minutes until everything is combined and hot. Add salt to taste. Enjoy!